Return to Headlines
See Yourself Here: RCSD Hiring Now for the Upcoming School Year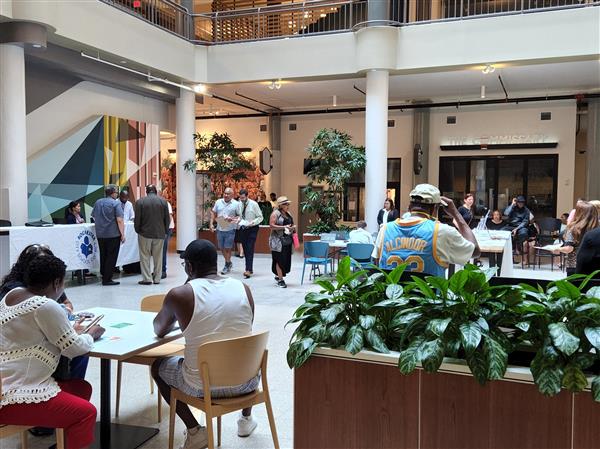 (August 8, 2022) The Rochester City School District is actively recruiting for a variety of positions within its organization. The District is hosting an on the spot hiring event today, Monday, August 8 from 10 a.m. until 2 p.m. at Mercantile on Main at 240 East Main Street. The RCSD has a number of openings for positions in schools, including teachers, paraprofessionals, teaching assistants, and clerical staff.
"We have several hundred vacancies in the school district that we're looking to get filled," said Dr. Christopher Miller, Chief of Human Capital. "School opens in about 30 days, so it is our goal to have all of our school and classroom positions filled so that students are welcomed by teachers and other professionals."
In addition to several recruitment events this summer, the RCSD is also partnering with community-based organizations including Ibero, Rochester Works, the Department of Labor, the City of Rochester, SUNY Brockport, La Marketa at the International Plaza, and Veterans Outreach Center to assist with encouraging people to apply.
For more information, visit the Human Capital section of the District's website.
Recruitment event details are listed below.
Saturday, August 13, 2022: 8:00 a.m - 12:00 p.m.
Rochester Public Market
280 North Union Street
Saturday, August 13, 2022: 11:00 a.m. - 3:00 p.m.
ROC the Block
Abraham Lincoln School No. 22
595 Upper Falls Blvd.
Sunday, August 14, 2022: 12:30 p.m. - 4:00 p.m.
International Market Community
828 North Clinton Avenue
Wednesday, August 17, 2022: 10:00 a.m. - 2:00 p.m. (On the spot hiring)
Mercantile on Main
240 East Main Street
Sunday, August 21, 2022: 12:30 p.m. - 4:00 p.m.
International Market Community
828 North Clinton Avenue
Tuesday, August 23, 2022: 10:00 a.m. - 2:00 p.m. (On the spot hiring)
Mercantile on Main
240 East Main Street
Saturday, August 27, 2022: 8:00 a.m. - 12:00 p.m.
Rochester Public Market
280 North Union Street
Sunday, August 28, 2022: 12:30 p.m. - 4:00 p.m.
International Market Community
828 North Clinton Avenue
Friday, September 16, 2022: 11:00 a.m. - 2 p.m.
Veterans "Stand Down" Career Fair
Rochester Public Market
280 North Union Street
Saturday, September 17, 2022: 11:00 a.m. - 3 p.m.
ROC the Block
East High School
1801 East Main Street
Saturday, October 15, 2022: 11:00 a.m. - 3 p.m.
ROC the Block
Joseph C. Wilson Foundation Academy
200 Genesee Street