FRANK FOWLER DOW SCHOOL NO. 52

100 Farmington Road
Rochester, New York 14609

Phone (585) 482-9614

Fax (585) 654-107

9




***Be Smart Be Brave Be Kind***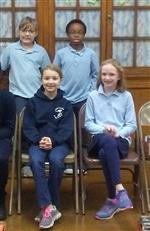 #52 Food Drive for the House of Mercy
The Frank Fowler Dow School #52 Student Council, in conjunction with the Book of the Month Committee, ran a non perishable food drive for the House of Mercy from November 13th-November 17th. Our goal was 350 food items and we more than doubled it with 790 food items! Student Council Members collected the donations each morning and kept track of our numbers. Our principal, Dr. Mary Aronson, chose Uncle Willie and the Soup Kitchen by DyAnne Disalvo-Ryan as our November Book of the Month. All the students in the school were motivated to donate and help others! The Student Council is run by Nancy Belec and the Book of the Month Committee is run by Carol Colombo and Kristen Eccleston.
Thank you to all School #52 parents for your generosity!
Not pictured Nory Plaza, Quintel Crockton and Delilah Braden
---
November Parent Letter from
Dr. Aronson
Please click here for important dates
and events this month
---
NeighborWorks Rochester produced a video of educational opportunities in The Triangle of North Winton Village and featured our own School 52 - Enjoy!
---
Who was Frank Fowler Dow?
Frank Fowler Dow (1851 – 1928) was born in Fowlerville, NY. The town was named after his great-great grandfather, Wells Fowler. Mr. Dow attended college at Geneseo and studied medicine at the University of Buffalo. Did you know that he worked to have New York State pass legislation so that all schools have a playground? It is part of a law named after him, the Dow Law. In 1930, School 52 was named after Dr. Dow to honor this man who did so much for children, his community and education.
Read more about Frank Fowler Dow
here
.
---
School 52 provides a safe and nurturing learning environment.

In collaboration with parents and community partners, we promote academic excellence, honorable character, and responsible citizenship.

Our students strive for success in school and community.
Feel free to contact us with your comments or questions.

We invite you to visit our school in person, and look forward to meeting you.