WE ARE SCHOOL OF THE ARTS...
SOTA is a Rochester City School District secondary school. Nestled in the Neighborhood of the Arts, it is located in the heart of Rochester's Cultural District. If you're interested in the arts, talented, desire high academic achievement, and you want to develop your skills... SOTA is the place for you!
---
ALL LINKS TO ADDITIONAL INFORMATION IN BLUE.
---
SOTA Students, Click Below for Important Information...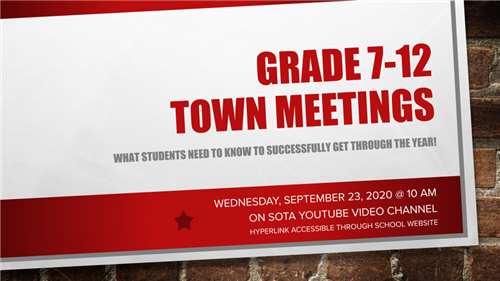 ---
2020-2021 Welcome From Principal Kelly Nicastro
---
RCSD Back to School Parent Guide
RCSD Parent Resources and Information
PROBLEMS WITH MiFi or a CHROMEBOOK?
Call RCSD - 585-262-8700
or
NEED MiFi or a CHROMEBOOK?
Click This Link for an RCSD Online Request Form
---
2020-2021 VIRTUAL LEARNING FAQS FOR STUDENTS AND FAMILIES
Ouestions? Please Email: SOTAinfo@rcsdk12.org
Wednesday Asynchronus Daily Rotation - First Marking Period
September 16- A Day
September 23- B Day
September 30- C Day
October 7- D Day
October 14 - A Day
October 21 B Day
October 28 - C Day
November 4 - D Day
November 11 - Veterans Day - All Facilities Closed
MONDAY = A DAY, TUESDAY = B DAY, THURSDAY = C DAY, FRIDAY = D DAY
WEDNESDAY = ASYNCHRONOUS DISTANCE LEARNING
---
USEFUL TIPS FOR DISTANCE LEARNING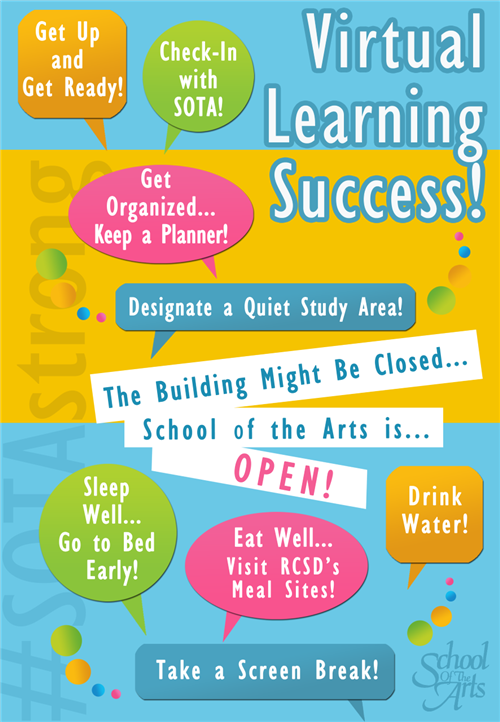 ---
CLICK HERE FOR NEW SECTION...
Link to Messages From the Superintendent
---
For RCSD Families:
Pack and Go Meals for School-Aged Children
RCSD COVID-19 Information and Resources
Monroe County COVID-19 Information and Resources for Families
---
NEW ADDRESS?
PLEASE UPDATE STUDENT CONTACT INFORMATION HERE...
---
Resources for Distance Learning
Google Classroom 101 - Help for Students, Parents, and Guardians
2020-2021 Visual Arts Department Supply List
---
Attention SOTA Students...
SOTA Students Please Check Google Classroom Daily for Updates and New Information!
---
NEED HELP? RCSD SUPPORT HOTLINE
585-262-8700
---
COURSE SELECTION INFORMATION
UPCOMING 2020-2021 SCHOOL YEAR
Click on Links Above
---
Click Image For Information
---

Call: 324-SERV (7378)
E-Mail: atyourservice@rcsdk12.org
Do you need help accessing services, such as enrolling your child for school, transportation, or a special education request? Do you have a question about your child's school?
Contact: At Your Service today.
---