3/4/21 Update from Our Principal:
Dear School 16 Families,
The Future of Our World is @ School 16! We are caring educators inspired to help your children get their "learn" on everyday!
Check out our video: https://youtu.be/AbS02LB4gC0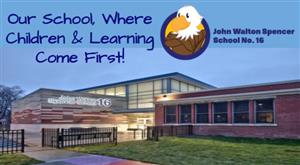 Since February 8, 2021, we have enjoyed having some of our soaring scholars back in the building again! Though it's only Mondays & Tuesdays, we couldn't be happier to be together in-person again. Please know we are taking every precaution to provide a safe & healthy learning environment for our school community.
Are you interested in having your child return to School 16 for in-person learning?
Just call 235-1272 to speak with our office staff to have your child's name added to the waitlist.
If your child is already on the waitlist, our office staff will contact parents with the return date as soon as it is announced.
If you live further than 1.5 miles from School 16; transportation is available to students in Kindergarten - Grade 6. Our office staff will contact you to confirm if you would like busing for your child.
Upcoming Events for Your Calendar:
March 5:

Half Day for Students-Superintendent's Conference Day

March 29 - April 2 Spring Recess:

NO SCHOOL

April 16:

Quarter 3 ends

April 19:

Quarter 4 begins

Week of April 26:

Quarter 3 report cards mailed home

May 31 Memorial Day:

NO SCHOOL

Week of June 21:

Quarter 4 report cards mailed home

June 24:

Last Day of School for Students
Moved or changed your telephone number recently?
If so, please contact our office staff as soon as possible. Don't miss out on important information.
Helpful RCSD Resources & Numbers:
Thanks for all you do each day in supporting your child's academic and social emotional growth. Stay in touch with us on Twitter and Facebook at @rcsdsch16. Please reach out to us with questions or concerns you may have. We are here for you.
E-mail: 16info@rcsdk12.org
Telephone: 585-235-1272
All my best,
Ms. Lisa Garrow, Principal