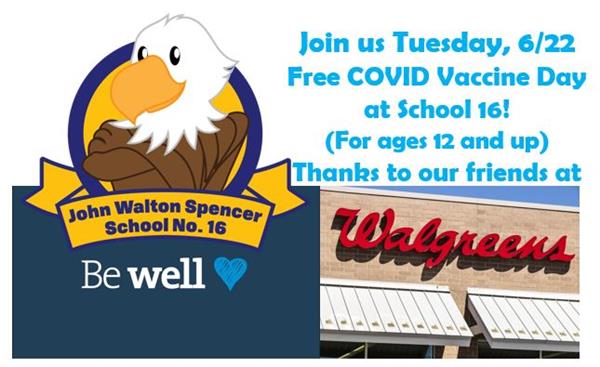 June 21, 2021 Update from Our Principal
Walgreens staff will be at our school on Tuesday, 6/22 to administer the FREE COVID Vaccine (first dose) for ages 12 and up. Three weeks later Walgreens staff will be back to administer the second vaccine.
It is our last week of school together! Summer Vacation is almost here! Remember to read and continue learning through PLAY!
Important Dates:
6/24 10:00 am Virtual Grade 6 Graduation Ceremony
6/24 11:30 am Virtual Kindergarten Graduation Ceremony
6/24 Last day of school for all students
7/12 School 16 Summer School begins. It is 8 am to 12 pm, Monday-Friday through 8/6.
A BIG Thank You to all of our students, families, district staff and our community for supporting us this year!

We appreciate the extra effort from our parents and guardians to help your children succeed in the remote learning environment. It was a challenging, but we did it TOGETHER!
Stay in touch with us on Twitter and Facebook at @rcsdsch16.
Planning a move this summer? Please reach out to us with your new information.
E-mail: 16info@rcsdk12.org
Telephone: 585-235-1272
Ms. Lisa Garrow, Principal