October 26, 2020 Update From Our Principal:
Dear School 16 Families,
We are so excited to see all our School 16 families at our Virtual Open House this Thursday at 5:30 pm on Zoom! Our teachers are sharing the School 16 Open House Flyer with families via Seesaw, Google Classroom, E-mail, and Class Dojo. In addition, teachers will be sending all parents their own Open House Presentation that details important information on the class. Please take time to review their presentations and should you have questions, feel free to contact your child's teacher. We will also be posting all teachers' Open House Presentations on our website after 10/29.
This is our 7th week of remote learning and students and teachers are working so well together. Let's make a strong finish in the last three weeks by encouraging our students to focus on their learning and strive to do their best.
Our School attendance rate is at 85.9%. Our goal is 100% attendance & we can accomplish this together! A reminder that school begins at 9:00 am. Students in K through grade 6 need to sign into their online class at 9:00 am. Teachers are required to take attendance by 9:15 am. Your child will be marked absent after 9:15 am. If your child arrives after 9:15 am, your child's attendance will need to be changed to Tardy. This process takes time for teachers and office staff when a large number of students arrive late from over 20 classrooms. Since the District sends out "robo-calls" mid-morning, if a student arrives after 9:45 am parents may receive a "robo-call" stating their child is absent. If this happens, please contact our office staff at 235-1272 to verify your child's attendance. We appreciate you making every effort to help your child succeed in school by arriving on time at 9:00am and ready to learn.
Upcoming Events:
10/29 at 5:30 pm: School 16 Virtual Open House at 5:30 pm on Zoom. Teachers are mailing and e-mailing families the Open House Flyer with the Zoom meeting link.
11/11: No School-Observance of Veterans' Day
By 11/20: Parent-Teacher-Student Conferences will be held via text, phone, or zoom. Teachers will contact all parents to schedule a convenient date/time and method of communication.
11/13: Last day of Quarter 1
Week of 11/23: Report cards will be sent/mailed home
11/25, 26 & 27: No School-Thanksgiving Holiday
Here's the 10/23 Superintendent Message from Deputy Superintendent Melody Martinez-Davis:

Click the photo below or this link:

https://www.youtube.com/watch?v=xE9MW7lXgFU&feature=youtu.be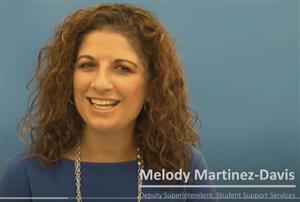 As you know, teachers and students work together online Mondays, Tuesdays, Thursdays and Fridays from 9:00 am to 3:30 pm. On Wednesdays, students work independently and all teachers are available to students and families for 2 hours to help with learning. Please check with your child's teacher for the Wednesday Virtual Office Hours.
Don't forget, School 16 is a Food Site for breakfast and lunch open 10 am to 2 pm.
Helpful RCSD resources, links, and numbers for families:
Thank you for your continued support of your child's learning through this remote learning. Stay in touch with your School 16 family by following us on Twitter and Facebook at @rcsdsch16. Please reach out to us with any questions you may have. We are here for you every day: e-mail: 16info@rcsdk12.org or telephone: 585-235-1272.
All my best,
Ms. Lisa Garrow, Principal