WE ARE SCHOOL OF THE ARTS...
is a Rochester City School District secondary school. Nestled in the Neighborhood of the Arts, it is located in the heart of Rochester's Cultural District. If you're interested in the arts, talented, desire high academic achievement, and you want to develop your skills... SOTA is the place for you!
---
Please Note: All Links to More Information in Blue
---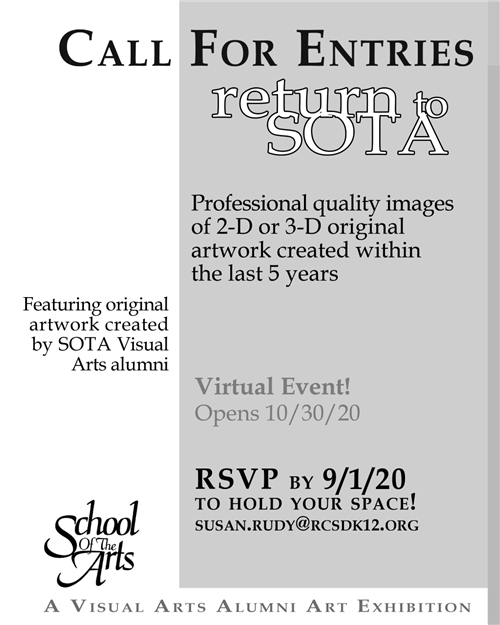 ---
Celebrate SOTA's Graduating Class of 2020...
2020 Virtual Graduation Ceremony Program
---
Superintendent Letter - Regarding 2020-2021 School Year
---
RCSD Families...
Please Read Important Information About MIFi Access...
---
Black Lives Matter: Monroe County Schools United

---
INFORMATION FOR PARENTS...
---
SOTA/RCSD COVID-19 IMPORTANT LINKS
All New York State schools will remain closed through the end of this school year. Additional information and resources are available at www.rcsdk12.org/covid19
---
Important RCSD Information Regarding Grading Guidelines and Food Distribution
---
From Principal Nicastro...
An Updated Message for Families
---
PLEASE UPDATE STUDENT CONTACT INFORMATION HERE...
---
TRANSITION TO ONLINE LEARNING RESOURCES...
Google Classroom 101 - Help for Students, Parents, and Guardians
---
ANNOUNCEMENT:
August Regents Examinations Cancelled
GUIDELINES:
Regarding Regents Examinations
FAQS:
Regarding Exam Cancellations
---
COVID-19 RESOURCE INFORMATION:
---
PROBLEMS WITH A CHROMEBOOK?
Call:
585-262-8151
585-262-8700
SOTA Students Please Check Google Classroom Daily for Updates and New Information!
---
NEED HELP?
RCSD SUPPORT HOTLINE
585-262-8700
---
COURSE SELECTION INFORMATION
UPCOMING 2020-2021 SCHOOL YEAR
Click on Links Above
---
Click Image For Information
---
Collection Procedure
Click on links above.
---

Call: 324-SERV (7378)
E-Mail: atyourservice@rcsdk12.org
Do you need help accessing services, such as enrolling your child for school, transportation, or a special education request? Do you have a question about your child's school?
Contact: At Your Service today.
---