Return to Headlines
Anna Murray-Douglass History Celebration at School No. 12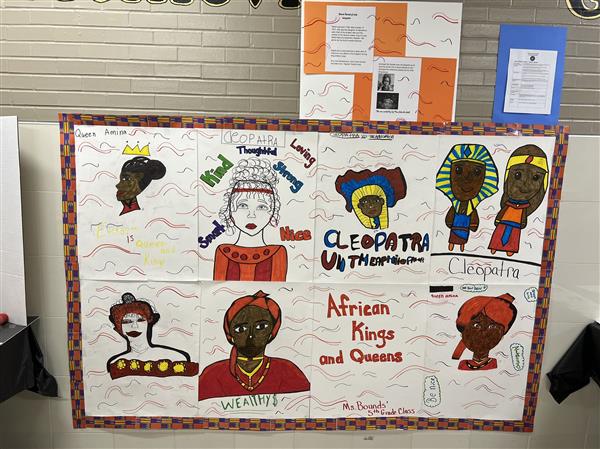 (May 11, 2022) After three months of project-based learning, students are celebrating the completion of "Herstory: Anna Murray-Douglass, a journey to our roots." The project began in February when students from School No. 12 were recognized during Douglass Week in Washington, D.C. The District's communications team produced a video where students spoke about their knowledge of Frederick Douglass, why his wife Anna was so important, her legacy, and why students love the school.
Since then, students have been engaged in a number of projects with several community partners to highlight the important legacy of Murray-Douglass and the impact she had on her husband and education. In partnership with the Rochester Museum and Science Center, teachers from Anna Murray-Douglass Academy toured three exhibits to bring back resources for project-based learning plans with students:
Take it Down

Teachers explored the story of one local carousel panel and joined in dialogue on individual, institutional, and structural racism.

Underground Railroad

Teachers explored the paths of freedom seekers of Austin Steward, Frederick Douglass, Harriet Jacobs, and Reverend Thomas James.

Change Makers

Teachers learned about more than 200 inspiring stories of past and present diverse Rochester, Indigenous, and Haudenosaunee women visionaries, trailblazers, inventors, activists, and entrepreneurs who changed Rochester and the world.
As a culmination to the three months of project-based learning, students combined their arts festival, black history, and spring concert celebrations into one event on Wednesday, May 11. Families heard from the school's string and choral performers, engaged in art projects around the legacy of Murray-Douglass, and had the opportunity to create t-shirts. Wegmans generously donated $5,000 worth of culturally relevant food made from recipes provided by parents. Wegmans also donated a tent to house the festivities in the front of the school.