Return to Headlines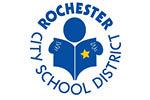 (July 28, 2021) Superintendent Lesli Myers-Small kicked off the 2021 Leadership Summit virtually on Monday, July 26, 2021 for administrators in the Rochester City School District. This is where the Superintendent unveiled her theme for the 2021 – 2022 school year of refocus, renew, and reimagine. All week long, administrators have been involved in professional development to prepare for the start of the new school year in September.
In September, the Rochester City School District will see the majority of its students return to in-person learning. In some instances, because of the COVID-19 pandemic, students have been away from a classroom for an entire school year. That is why the Superintendent is guiding the District toward the theme of refocus, renew, and reimagine.
Myers-Small said, "When we think about refocus, the transition from remote to in person provides us an opportunity to evolve, advance, and to improve our approach to learning and instruction. When we talk about renew, we want to energize students, families, and staff to connect in person and build trusting relationships in a nurturing and safe learning environment. Reimaging means our institution must transform its' programming to serve our students differently in innovative ways."
The theme of refocus, renew, and reimagine was developed with the District's strategic plan in mind. Myers-Small said, "Our goal is to engage, lift up, collaborate, and lead."
As part of the Leadership Summit, administrators also heard keynote addresses from Melody Martinez-Davis, the Deputy Superintendent of Student Support Services and Dr. Jamila Dugan, the author of Street Data. Dr. Dugan is a leadership coach, learning facilitator, and researcher. She has also served as a coach for new teachers in Oakland, California. Dr. Dugan currently serves as an equity-centered leadership development coach across all sectors including non-profits, public school districts, charter networks, parochial, and private schools.