Return to Headlines
Edison Tech Students Complete NYSAA Program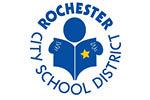 (June 19, 2020) The Rochester City School District would like to congratulate nearly 60 NYSAA students who finished strong this school year with Work-based Learning (WBL) hours. The NYSAA program is for students with the most severe disabilities in grades 3 - 8 and high school. These students are from the Edison Career & Technology High School.
Through Work based learning (WBL), students gained general education work experience (GEWEP) and Community Based Work Program (CBWP) experience at a number of different job sites throughout Rochester. In fact, these young men and women completed over 6,500 hours of work experience, 15 students completed the General Education Work Experience Program (GEWEP) where they participated at 2 to 3 different job sites. Twenty-one students were involved in community based work programs where a job coach assisted them at a work site, and 41 students participated in "enclave" community based work programs where an entire class worked at a job site with a teacher.
Work based learning focuses on assisting students to develop broad, transferable skills necessary for postsecondary education and the workplace. This allows students to make school-based learning more relevant by providing them with the opportunity to apply knowledge and skills learned in the classroom to real world situations.
The Rochester City School District would like to thank LaTonya Bedell (WBL Coordinator) and the following community partners for giving these students the work based learning skills and knowledge of their industries; Unity Hospital, ARC Deli, the Seneca Park Zoo, the City of Rochester: Equipment Services and Animal Services, St. Peter's Kitchen, Homesteads for Hope, Green Visions, RCSD, and LinQ Transport.