Return to Headlines
Dr. David Anderson Shared History of Frederick Douglass' Relationships with Rochester's Historic Icons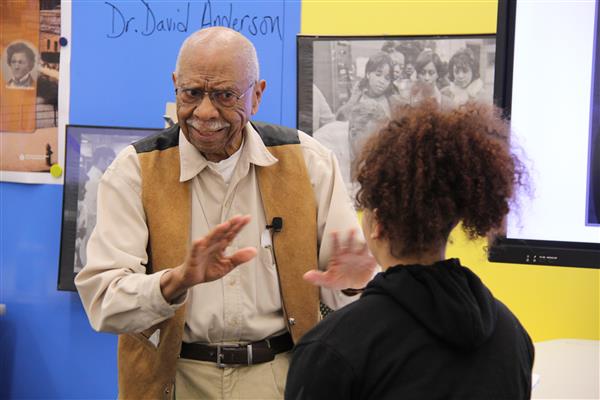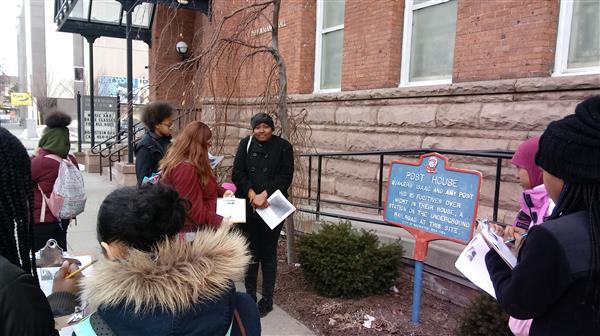 Dr. David Anderson Shared History of Frederick Douglass' Relationships with Rochester's Historic Icons
March 23, 2018—Wednesday, 7th-grade students from John Walton Spencer School No. 16 traveled to Central Office to hear Dr. David Anderson speak about the importance of relationships, specifically how they relate to abolitionists from Rochester, such as Frederick Douglass and Austin Steward.


District students have been reading Douglass' autobiography, Narrative of the Life of Frederick Douglass, an American Slave, this school year in honor of the 200th anniversary of his birth. Wednesday's class in the Modern Learning Space provided an opportunity to gain a greater perspective on the man and key relationships in his life.


Students began their day with visits to two historical Rochester locations—the Hochstein School of Music and the Susan B. Anthony House—where they learned about Douglass' relationships with Isaac and Amy Post and Susan B. Anthony respectively. The class then hiked to the Central Office, where they listened to Dr. Anderson share the story of Austin Steward and his relationship with Douglass. After lunch, the students had the opportunity to work with ThingLink, a web source that allows students to upload an image and incorporate interactive content. Students will create ThingLinks of Frederick Douglass, communicating information from the Dr. Anderson and the field studies.


The day's lessons provided students with an opportunity to interact with the content they are studying and tie in technology to the educational experience. "Students have a natural interest in their own histories and the history of our city," said Stephen LaMorte, Executive Director of Social Studies. "Getting to learn about that history by interacting with a local historian and respected community elder like Dr. Anderson makes things all the more powerful. Engaging with history face-to-face, and then applying those experiences, creates relevance and meaning for students."
This learning experience was made possible by the RCSD Instructional Technology Department.