RCSD Employees Participate In Superintendent's Conference Day Activities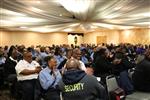 November 6, 2018 – Today, employees of the Rochester City School District participated in various activities centered around the following Superintendent's Conference Day themes – equity, race, and implicit bias.
At the District's Central Office, Superintendent Barbara Deane-Williams greeted the staff and said, "I want to say thank you for continuing to participate in these kinds of conversations. I am proud to be in a school community and a District where there is a willingness to open up and explore different world views and bring forward conversations that sometimes aren't comfortable. It's important to listen to children and their families about their hopes and dreams."
Staff members at Central Office also viewed a video from a graduate of the Baltimore Public School system, which facilitated an implicit bias discussion.
Implicit bias is any unconsciously held set of associations about a social group. Implicit bias and racism are related concepts, but they do not have the same meaning.

Racism is prejudice against individuals from a specific racial group, and can be either explicit or implicit.

Implicit bias can lead to implicitly racist behavior. By becoming aware of our own implicit biases and actively resisting them, we can avoid perpetuating harmful racist stereotypes and prejudices.
The entire District continued its important work throughout the day of understanding implicit bias, school-based autonomy pertaining to teaching and learning, school climate, and the effective use of data.
The District will look into various options to continue this dialogue with its Central Office staff and school personnel. Dr. Cecilia Griffin Golden, Deputy Superintendent of Teaching and Learning said, "I appreciate the time, interest, candor, and commitment of our staff members to the students of the Rochester City School District."