Return to Headlines
RCSD Teachers Complete Internship in Career in Teaching Program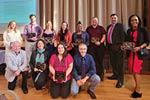 (May 24, 2023) The Rochester City School District congratulates all of the interns who successfully completed its Career in Teaching (CIT) Program. Superintendent Dr. Carmine Peluso celebrated this accomplishment with Rochester Teachers Association (RTA) President Adam Urbanski, members of the CIT Joint Governing Panel, and the honorees on Monday, May 22, 2023, at an awards dinner at Temple B'rith Kodesh in Brighton.
389 new teachers and service providers received CIT mentor support this school year, and 16 CIT interns were nominated by their mentors and administrative supervisors for their distinguished accomplishments.
The following individuals were recognized at the dinner as CIT Interns of the Year:
Zachary Antonucci, World of Inquiry School No. 58
Joyce Dennis, Dr. Charles T. Lunsford School No. 19
Carly Fox, Anna Murray-Douglass Academy School No. 12
Angela May, Franklin Lower School
Mekko Mongeon, Dr. Alice Holloway Young School of Excellence
Megan O'Hara, Francis Parker School No. 23
Duncan Phillips, Mary McLeod Bethune School No. 45
Lauren Sparacio, RISE Community School No. 106
Gia Thomas, Abraham Lincoln School No. 22
Brianna Torrell, Henry Hudson School No. 28
The following individuals will be recognized at their schools as CIT Intern of the Year finalists:
Alaina Bowman, Mary McLeod Bethune School No. 45
Megan Cleland, Charles Carroll School No. 46
Jamie Gibson, NorthSTAR
Susan Merriam, RISE Community School No. 106
Mara O'Neill, Wilson Foundation Academy
Geoffrey Soja, Nathaniel Hawthorne School No. 25
Recipients attended with their mentors, supervisors, and families. These teachers have made outstanding efforts on behalf of their students, and they have accomplished tremendous professional growth with the year-long comprehensive support of their CIT mentors. Their work with students speaks for itself, and their commitment and dedication help students to thrive.
Established in 1987, the jointly-governed CIT Program has consistently provided Rochester teachers with the mentor support they need, resulting in high teacher retention and stronger instruction for students.
Rochester has been a national leader for years in quality mentoring. The CIT program was one of the first of its kind in the country, and Rochester continues to understand the importance of mentor support and teacher leadership as part of providing a quality education for students.