Return to Headlines
Francis Parker School No. 23 Students Get Up Close Experience Inside a Whale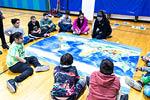 (March 14, 2023) Students had a whale of a time learning at Francis Parker School No. 23 on Tuesday morning, March 14. The Whalemobile, a 40-foot replica that provides students with a visual way to see the scale and size of a whale, was inflated for students during an assembly to get students interested in science, technology, engineering, and math.
Students were part of an assembly with Cynde McInnis, a whale researcher, who uses videos and photographs to talk about her experience leading whale watch trips. The owner of the Whalemobile has taught tens of thousands of people about whales and the threats they face in our oceans today.
The 40-foot replica is modeled after a humpback whale named Nile, whom McInnis has seen every summer for 28 years while whale watching in Massachusetts. "Kids aren't getting exposed to whales, they aren't learning about the oceans, so I thought maybe there is a way I can take the whales into the schools to help get students excited," said McInnis.
McInnis conducted classes inside the whale for students in grades 3 – 5, followed by an additional 20 minutes outside of the whale. The experience concluded with 6th-grade students participating in a question-and-answer session for approximately 30 to 35 minutes.
"This is such a great opportunity for the kids to learn as science comes to life," said Katie Yarlett-Fenti, School No. 23's Principal. "We find that hands-on learning helps improve student achievement. The motivation behind it is really pushing them not just as critical thinkers, but to excel at all academics in a fun and engaging way."
"Whales are a part of the world and we need to learn more about them, I am very excited, I think it's amazing they are bringing this to us," said Savannah Fritz, a 3rd-grade student at School No. 23.
The Whalemobile has already visited Dr. Martin Luther King, Jr. School No. 9, The Children's School of Rochester No. 15, Pinnacle School No. 35, and it will make appearances later this month at Montessori Academy School No. 53, George Mather Forbes School No. 4, and Dr. Charles T. Lunsford School No. 19. After all of these appearances, more than 2,000 RCSD students will have benefited from this unique learning opportunity.