Return to Headlines
3rd - 6th Grade Students Train to Become ROC Restorative "Circle Champions"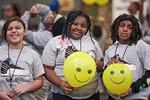 (January 19, 2023) The Rochester City School District commends its students for being leaders in the classroom and helping their peers. On Thursday, January 19, several students in grades 3 – 6 from Dr. Walter Cooper Academy School No. 10, John Walton Spencer School No. 16, Abelard Reynolds School No. 42, The Flower City School No. 54, and RISE Community School No. 106 participated in RCSD's ROC Restorative circle champions student training at Northridge Church.
This is an opportunity for students in those grade levels to be leaders in their school buildings and promote student voice in their community. The initiative is for scholars who want to learn about facilitating team-building circles in their own schools and help resolve conflicts amongst peers using restorative practices.
"These may be students who have had circumstances that are preventing them from being successful, and as educators, we need to change the narrative and provide opportunities for these students that there is a better way," said Christopher Smith, a member of the District's ROC Restorative Team.
"We believe all kids have leadership capacity and can have a positive impact on relationship building, school culture, and student voice," said Dr. Carmine Peluso, Superintendent of Schools.
"The violence crisis our city is facing is not going to be solved in one day or one week," said Smith. "It is going to take time and a whole community coming together and investing in one another. Providing leadership opportunities to students as early as grades 3 and 4, hopefully, empowers them as they get older to realize their purpose and know they are capable."
"I have learned there is always a better way to solve problems by having people talk out their issues," said Jeremiah Bush, a sixth-grade student at Dr. Walter Cooper Academy School No. 10. He was one of the students who filled out an application and was selected to be a circle champion in his building. "I think I can teach other students my age how to better solve problems instead of always fighting it out or getting mad at somebody."
Media Stories:
RCSD Students Taking Part in Anti-Violence Initiative (Spectrum News)
RCSD Comes Together to Support Antiviolence Initiative for Students (News 10NBC)
RCSD Students Train to Become Anti-Violence Leaders (13 WHAM)