Return to Headlines
Student Voice Committee at Northeast College Preparatory High School Premiers Mini Documentary about Mikva Challenge Projects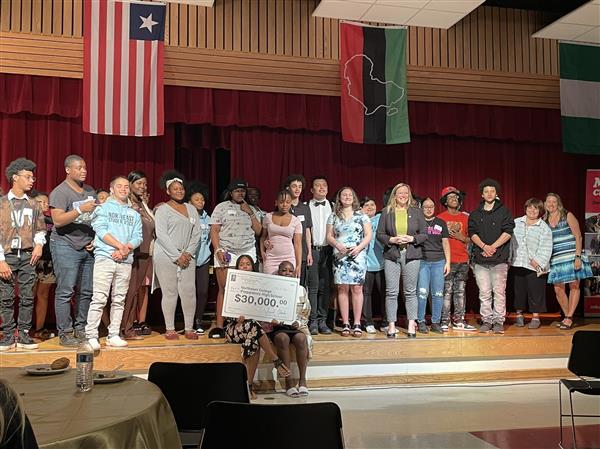 (May 11, 2022) Mikva Challenge students at Rochester's Northeast College Preparatory High School hosted the premier of a mini documentary on Wednesday, May 11.
The students are members of the school's Student Voice Committee (SVC), a group that partners with leaders to amplify youth voice in decision-making. The documentary highlights projects focused on creating healthy spaces, completed by the Northeast SVC.
The documentary screening provided attendees with the opportunity to see, firsthand, the impact that students are making in school decision-making and celebrate the SVC's accomplishments. The documentary, which was filmed in December, explains how students at Northeast have already embraced the concept of improving their school environment through student-facilitated action and transformative social-emotional learning. Examples include breaking ground on a new outdoor classroom space in May of 2021 and a completed bathroom-painting project to help build awareness around mental health supports.
State Assemblywoman Sarah Clark was able to secure $30,000 dollars towards the Student Voice Committee at Northeast. She said, "Youth and students deserve a seat at the table where decisions are being made about their community. That is why I am proud to invest $30,000 towards the Student Voice Committee at Northeast. This program is a model for the positive results that come from including student voices and advocacy in conversations on how to decrease violence and aid social-emotional learning in a school setting. Programs like these empower students with the tools to de-escalate violence and impact the community in positive and healthy ways. Thank you to the administrators at Northeast for your commitment to this program, and to the Mikva Challenge for highlighting this great initiative. Over the last few months I have had the opportunity to see so many students in action, it is such a privilege and I am excited to see what comes next."
The Mikva Challenge supports educators and youth across the country with action civics curricula that teaches civics instruction through participation in the democratic process. Programming offered also helps students to be empowered, informed, and active citizens who will promote a just and equitable society.
Additionally, through the Mikva Challenge, students in grades 7 – 12 have already participated in a citywide "Project Soapbox" speech showcase that encouraged student voice all across the District. Students participated in a live Zoom event, where they delivered two-minute call-to-action speeches on issues that have impacted their lives and the lives of their families, such as mental health, racism, and the environment.