Return to Headlines
Students at Northeast College Preparatory High School Recognized for Student Voice Curriculum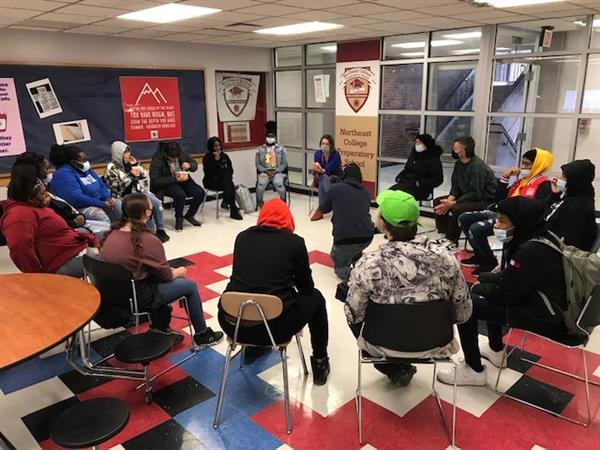 (December 9, 2021) Student voice is critical to accelerating the academic performance of all scholars in the Rochester City School District. Northeast College Preparatory High School in particular is being recognized for its creativity to help students develop leadership skills and improve school culture.
The Mikva Challenge, a Chicago-based organization, is creating a documentary to highlight the implementation of student voice committees at Northeast College Preparatory High School. The Mikva Challenge supports educators and young people across the country with action civics curricula, which teaches civics instruction through participation in the democratic process. Programming offered also helps students to be empowered, informed, and active citizens who will promote a just and equitable society.
The documentary, being filmed Thursday, December 9 and Friday, December 10, will explain how students at Northeast have already embraced the concept of improving their school environment through student-facilitated action and transformative social-emotional learning. As an example, the school broke ground on a new outdoor classroom space in May of 2021 and completed a bathroom-painting project that included building awareness around mental health supports.
Additionally, through the Mikva Challenge, students in grades 7 – 12 have already participated in a citywide "Project Soapbox" speech showcase that encouraged student voice all across the District. Students participated in a live Zoom event, where they delivered a two-minute call-to-action speech on issues that have impacted their lives and the lives of their families, such as mental health, racism, and the environment.
In May of 2020, the Rochester City School District was one of five sites nationwide to receive a three-year grant to develop strong and sustainable student voice and youth civic engagement. Made possible through the Mikva Challenge, the Bezos Family Foundation, and the Konar Foundation, this grant provided professional learning, community engagement resources, and coordination of a youth voice and civic action showcase.