Return to Headlines
School of the Arts Student Wins Princeton Prize for Race Relations
April 29, 2021—School of the Arts sophomore Briana Williams has been awarded with the 2021 Princeton Prize for Race Relations. She is being recognized for her work as a Teen Empowerment Youth History Ambassador.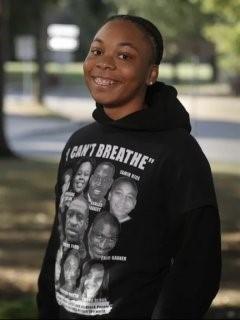 In her role as a Youth History Ambassador, Briana embarked on an ambitious project that captured and explored Rochester's Black history through in-depth interviews with the African American elders who have lived it. She worked collaboratively to create "Clarissa Uprooted," a powerful documentary comprised of stories in the Clarissa Street neighborhood. Briana also helped to obtain the Clarissa Street Corridor legacy landmark designation, and she is co-creating an intergenerational exhibit that she says will "allow all ages to learn the knowledge of our city in an unforgettable way." She further explains that her work is about "uncovering the untold truth."
Briana's advocacy for equality took her to the front lines of the streets at several demonstrations and protests. Her passion and voice helped encourage her peers to get involved in constructive and powerful ways. Briana states, "It is my duty to engage and educate our people of this city in order to stop history from repeating itself and to make our future a safe place for all to share our love and abolish the racist policies and systems because we keep us safe!"
Each of the Princeton Prize in Race Relations recipients receives a $1,000 award and is invited to participate in a Symposium on Race, which will be held virtually this year in June 2021. At the symposium, recipients will have the opportunity to meet and learn from each other and to speak with others engaged in racial justice work and scholarship.
The Princeton Prize in Race Relations was founded in 2003 by Henry Von Kohorn, a 1966 Princeton graduate who recognized the need to support and encourage young high school students committed to fostering positive race relations within their communities. His vision was founded on the notion that early encouragement, reward and support for students would motivate them to continue this critical work in college and beyond. The Princeton Prize in Race Relations has honored more than 1,600 high school students who have worked to advance racial equity in their communities.