Return to Headlines
Four RCSD Students Recognized with "Do the Right Thing" Awards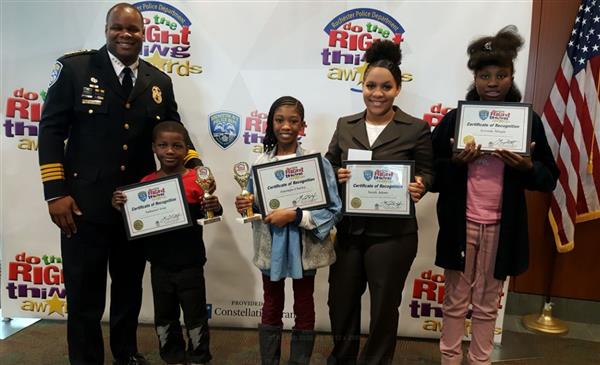 (February 14, 2020) On Thursday, February 13, 2020, at the February award ceremony for the "Do the Right Thing" program, four Rochester City School District students were recognized for their positive behavior, accomplishments, and good deeds.
Sarah Adams, East High School
Eighth-grader Sarah Adams was nominated by her physical education teacher, Ms. Munoz, for displaying leadership qualities and consistent positive interactions each day. Sarah is a true leader in school; she knows what to do when help is needed and routinely assists in the classroom, whether she is helping organize or letting her peers know when it is time to settle down. She even gave up her lunch period to help a younger student learn a step routine. In addition, Sarah is an advocate for social justice and a peer mediator. She has presented at various school assemblies around bullying and has assisted at school-wide events. Sarah's level of commitment and positive behavior make her an exemplary role model to her peers at East.
Anastajia Charley, RISE Community School No. 106
Anastajia Charley was nominated by Lemuel Rogers III, who is an employee at the Genesee Valley Sports Complex on Elmwood Avenue. Last September, Anastajia safely sought help through Rochester's "Safe Place" service. Safe Places are locations throughout the city that are designated as safe havens for youth. In addition to helping Anastajia discover the safe location, Mr. Rogers also facilitated communication with her school to assist with the problem she was having with peers. Mr. Rogers decided to nominate Anastajia to recognize her ability to make good decisions, which helped safely resolve a distressing situation for her. Since that time, she has blossomed as a sixth-grade student at RISE Community School.
Nathaniel Irvin, Roberto Clemente School No. 8
Third-grader Nathaniel Irvin was nominated by Leverett Copeland, the parent of a child who attends the same YMCA after-school program at School No. 8. Last November, Mr. Copeland observed Nathaniel notifying a counselor about a gold chain he had found. Nathaniel knew it belonged to another student, but that child had already left for the day. Mr. Copeland was very impressed with Nathaniel's concern for the owner of the chain and his determination that the counselor ensure its safe return. It was Nathaniel's decision to do the right thing that prompted Mr. Copeland to nominate him.
Serenity Mingle, Mary McLeod School No. 45
Serenity Mingle is in the seventh grade at School No. 45. Ms. McGill, a social worker at the school, nominated her for this award. In December, Serenity noticed that a classmate was having a seizure and immediately called 911 and the school nurse. Because of her quick action and ability to remain calm in an emergency situation, Serenity's classmate received the necessary medical attention in record time. Serenity is a leader and hero to her school community at School No. 45.
The goal of the "Do the Right Thing" program is to foster positive relationships between the Rochester Police Department and community youth. The program rewards students who strive to make good choices, do well in school, give back to their communities, or demonstrate a turnaround or improved behavior. For more information or to nominate a child, visit cityofrochester.gov/DoTheRightThing.