Return to Headlines
RCSD Celebrates CTE Month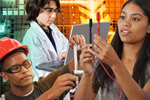 Every February, the Career and Technical Education (CTE) community celebrates CTE Month to raise awareness of the role that CTE has in readying students for careers and college. The Rochester City School District is proud to celebrate CTE Month this February. CTE Month is also a time to recognize and celebrate the CTE community members' achievements and accomplishments nationwide. Throughout the month of February, students will be engaged in various CTE and STEM-related activities in the District.
As part of CTE month, the District is participating in a number of different activities to promote career exploration, help students better understand financial literacy, and participate in volunteer opportunities using skills learned in CTE classes.
Career Exploration in Manufacturing Industry
The District is working with advanced manufacturing companies throughout the Rochester area. Representatives will speak to students about what to expect should they pursue a career in manufacturing. Specific companies include:
A.P.P. (Multi-Craft Apprenticeship Preparation Program) – provides training and apprenticeships in the trades to low income students ages 18-40.

Ortho Clinical Diagnostics – a leading global provider of in vitro diagnostics.

Optimax Systems Incorporated – America's largest optics prototype manufacturer.

Micro Instruments – provides custom machinery and tools for multi-national clients, including NASA, Covidien, Walt Disney, Xerox, and Valeant Pharmaceuticals.
There are grant opportunities for students to pursue paid internships.
Healthcare: Vaping and Smoking Presentation
The District has partnered with the University of Rochester and its thoracic medicine department to provide students with a presentation on the dangers of vaping and smoking. Physicians from the University of Rochester will visit with students at Enrico Fermi School No. 17 on Monday, February 24.
Edison Construction Pathway: Volunteer with Habitat for Humanity
Students from Edison Career and Technology High School will volunteer with Habitat for Humanity to build homes in the Rochester area. In years past, teachers from the District have spent time with students working on drywall, running electric, and performing the types of interior home jobs that students have already learned in their CTE classes.
Dollars and Sense: Financial Seminar
Students from several RCSD schools will take a field trip on Friday, February 7 and Friday, February 14 to the Bryant and Stratton Greece campus. Students will attend a dollars and sense seminar where they will learn how to write a resume, participate in mock job interviews, and understand financial literacy.
Join our efforts in promoting CTE around the District by uploading your photos and videos or e-mail us with your information. You can follow the District's CTE Department on Twitter @RCSDCTE and @RhondaNeal100