Return to Headlines
Superintendent Dade Unveils District Transformation Recommendations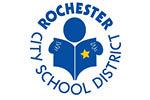 (January 23, 2020) Rochester City School Superintendent Terry Dade has unveiled exciting initiatives to celebrate three key components that will help lead the District's transformation.
These initiatives were announced on Thursday, January 23, 2020 as part of recommendations to the Rochester Board of Education. The three components include; celebrating the District's nationally recognized Pre-K program, giving 2,300 middle and high school students a better opportunity to succeed, and creating a blueprint for fiscal stability.
As part of the recommendation to give 2,300 middle and high school students a better opportunity to succeed, Superintendent Dade has proposed bringing back the iconic Franklin High School. This would include combining students from the two schools currently on the Norton Street campus. Students from Integrated Arts and Technology High School and Vanguard Collegiate High School would combine into a Franklin Upper, which would serve 9th – 12th grade students, and a Franklin Lower, which would serve 7th – 8th grade students.
The reason behind the strategy at the Franklin campus is accountability driven, to ensure students in these two grade-level bands have the targeted services and supports they need to succeed.
Superintendent Dade said, "We want to give more of our schools a chance at success in getting out of receivership (status), so splitting them into an upper-lower provides that opportunity for our students at the Franklin campus. Also, we are bringing back the iconic Franklin to a school community that knows that name and brand well."
A similar proposal has also been announced for the Monroe High School campus on Alexander Street. That recommendation includes creating a Monroe Upper (9th – 12th grade), and a Monroe Lower (7th – 8th grade).
The 2nd phase of this initiative includes adding capacity to help ensure as many kids as possible benefit from the District's nationally recognized Pre-K program. Superintendent Dade said, "Even before I came to the District, I heard about the Pre-K success."
In order to give more children the best start possible, the District must also address its long-standing enrollment challenge. To do that, the District will reconfigure two of its schools and open two additional early childhood education centers so it will have a Pre-K educational center in each of its three zones. Currently, the Rochester Early Childhood Education Center, is located in the northeast section of the city.
The first building that would be repurposed/reconfigured is the Early Childhood School of Rochester No. 57 on Costar Street. This building currently serves Pre-K through 2nd grade students. The building is significantly underutilized and has only 184 students. The District intends to open 10 to 11 classrooms in this building next school year to accommodate approximately 200 Pre-K students.
A similar repurposing would be done at Lincoln Park School No. 44 on Chili Avenue. This is a building that is currently Pre-K through 6th grade, and is significantly underutilized with 284 students. As part of Superintendent Dade's proposal, the District would be able to use the 1st and 2nd floors of the building for Pre-K classrooms. The third floor would then be utilized to house Pre-K Central Office staff so they can be in the same building with students and teachers. The repurposing of Schools 57 and 44 would result in a savings of $4.1-million-dollars.
Superintendent Dade said, "By having have a Pre-K center in each of our zones, bringing back the iconic Franklin, and creating an upper and lower Monroe High School will help us create a blue print for fiscal stability, address our declining enrollment, and make our District stronger."
All three components of this recommendation would result in an $8.3-million-dollar savings for the District. The Board of Education will vote on these recommendations at a business meeting on February 27th.
Meanwhile, the District has scheduled meetings with parents at School No. 44 on Thursday, February 6th at 6 p.m, and another meeting with parents at School 57 on Monday, February 10th at 6 p.m. Both meetings are being held to discuss placement options for kindergarten through 1st grade students at School No. 57 and kindergarten through 5th grade students at School No. 44.