Return to Headlines
Rochester Education Foundation Recognizes RCSD Staff and Student at Annual Partnership Awards Event
(September 30, 2019) The Rochester City School District congratulates All City High Principal Armando Ramirez, Rochester International Academy teacher John Haag, and School of the Arts student Douglas Rodriguez who will be recognized at the Rochester Education Foundation's partnership awards event, A Toast to REF and Our Partners, on Wednesday, October 16, 2019, at the Wintergarden by Monroe's.
Armando Ramirez and John Haag will receive the Outstanding Educator Award, which recognizes Rochester educators who are strong partners of Rochester students, making a positive impact on their lives.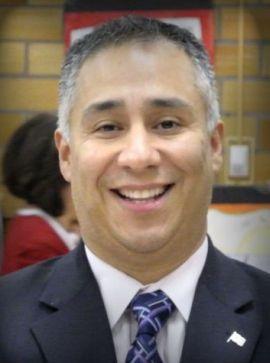 A transcript from Uniondale High School hangs in Armando Ramirez's office at All City High, which he uses to offer a simple message – "I was not the most engaged student." In fact, he affirms that he only did what he needed to do to get by in school. His journey from being a C student to a lifelong educator is not only inspiring, but it is also a model example for the students he serves as the Principal of All City High. One of five children raised by a single mother in a one-bedroom apartment in Brooklyn, Armando Ramirez never believed college was an option, and certainly not becoming an educator. "I never felt that I was smart enough to be a teacher," he reflects. With the support and urging of his mother, he attended SUNY Brockport, which ultimately changed his life. While he did not believe in his potential, a number of his professors there did. A career in education as a teacher and principal, earning two master's degrees along the way, Mr. Ramirez's current role as Principal at All City High is a perfect fit with its focus on students, ages 17-21, who need a fresh start and additional supports to finish their high-school degrees and graduate. Mr. Ramirez is proud of the welcoming environment in the school and the many student successes he has the privilege to witness each year. He often shares his story with students because he can relate to their experiences, growing up poor himself and relying on hand-me-downs from his sisters. He is their cheerleader for second chances, reminding them that it isn't how they start their journeys, but how they finish them.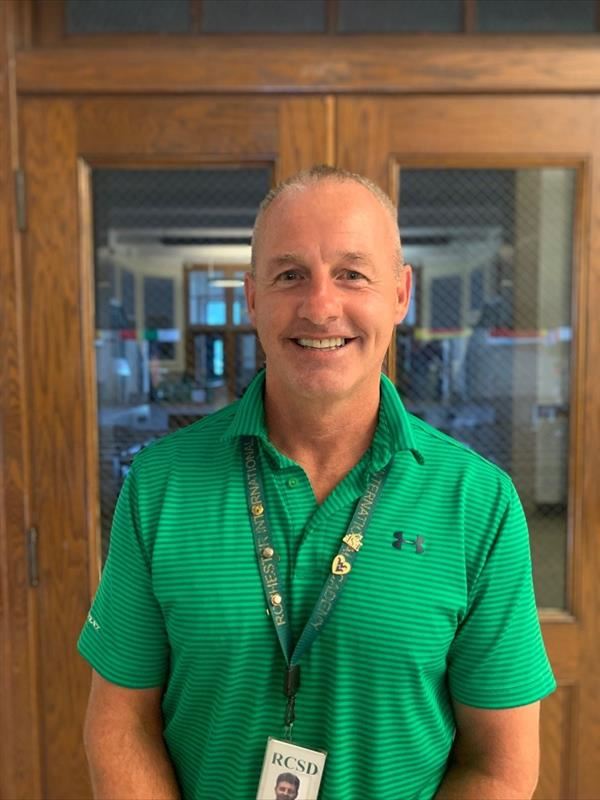 Math teacher and student advocate extraordinaire at Rochester International Academy (RIA), John Haag is driven by a simple mantra: The students come first. According to his RIA colleague Regina Maier, he lives this mantra every day at school and even on weekends. She explains that he drives a minivan not because he has small children, but so he can take students home after volleyball games or drive families to important meetings they otherwise could not attend. Friends and fate played a role in Mr. Haag's journey to teaching when his friends applied to SUNY Brockport for him and then urged him to be a teacher, even registering him for an education class. He went to that class and was hooked immediately. With a Master's in Education, he began his tenure in the District in 2002 at Jefferson High. When Jefferson was phased out and RIA was created, Mr. Haag was thrilled to be teaching international students, which made an instantaneous impact on him. He states, "I'm the benefactor of great ESL teachers who do incredible work. I learn every day from my students, co-teachers, and staff. I wish the world could be like RIA." Ms. Maier describes him as the male role model so many students are missing, serving as the father figure who supports them as they try to navigate living in a new country. She goes on to describe how special it is to see him interact with students, greeting them by name as they enter his room and declaring something he loves about them as they walk out with a smile. He states without exaggeration, "This is the greatest job in the world."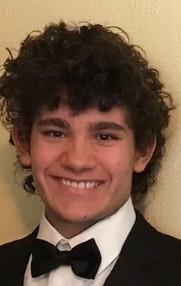 School of the Arts senior Douglas Rodriguez will receive the Musical Instrument Award, which is given annually to a college-bound Rochester student who intends to study music in college and is in need of a musical instrument to do so. A devoted and talented musician, Douglas will be presented with a viola, which will enable him to have a quality instrument for tryouts to music programs in college.
Douglas Rodriguez learned to play the viola at age 11. Despite his late start as a musician, he certainly has made up for the lost time as a fully committed student musician who practices three to four hours a day. In his short time as a musician, Douglas has played with Yo Yo Ma and many other professional musicians. He auditioned and was selected to participate in the National Take a Stand Festival, with the reward of an expenses-paid trip to participate in an orchestral performance led by famed conductor Gustavo Dudamel at Disney Hall in Los Angeles. Douglas even achieved a perfect score at his Solo Fest audition, becoming the principal viola in the All-County orchestra, and this past summer participated in the Summer Music Program at Tanglewood. Most recently, he was accepted into the New York State School Music Association (NYSSMA) All-State Conference Orchestra, which will perform at the NYSSMA Winter Conference in December. While Douglas has excelled musically, he never owned his own viola and had to return the loaner instrument he had been playing to its owner. Elana Herman, his music teacher at SOTA and an Eastman graduate, explains how the viola gives him a voice. She says, "He's super talented, committed, dedicated, and a good person. He is full of heart." She describes his talent as the type of music heard in a conservatory. His Eastman Community Music School instructor, Roberta Zalkind, describes Douglas as her most talented student. "His passion for music and playing the viola professionally is the main driving force of his life." Douglas is also a member of the National Honor Society.
Click here for more information about A Toast to REF and Our Partners event.
About Rochester Education Foundation
Founded in 2005, REF is an independent not-for-profit organization providing resources and programs to support the success of Rochester students through partnerships with educators, businesses, and the community. For more information, visit www.rochestereducation.org.