Return to Headlines
Recent RCSD Graduates Honored at Rochester Teen Film Festival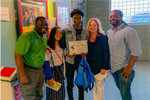 (August 9, 2019) Three recent graduates of Edison Career and Technology High School recently received top awards at the 2019 Rochester Teen Film Festival.
The event was held Thursday, August 8, 2019 at the Little Theatre in Rochester. Muhanuka Espoir, Lah Kyin, and Yusef Mberwa were selected as finalist earlier this year for the 2019 Rochester Teen Film Festival.
Their movie "My New Home" was selected from many entries from around the United States and beyond, including Italy. The documentary looked at the process of gaining U.S. citizenship through the eyes of a teenager.
Espoir came to the United States from Burundi and has been in America for nine years; Kyin was born in a refugee camp in Thailand and came to America when he was 8; and Mberwa came to the U.S. from Kenya and has been in America for 14 years.
The students took home the Marilyn O'Connor Award, which is presented to a film that addresses a social issue through the lens of compassion, equity and social justice. Marilyn O'Connor has fought for equality and justice as a youth, a parent, a public defender, and Family Court Judge. She was also one of the founders of the Greater Rochester Association for Women Attorneys, an organization that supports and encourages women in the legal community.
The students' movie was part of their senior capstone project and was one of the criteria they needed to complete in order to receive an endorsement on their diploma. These students have spent the last three years in the Digital Media Arts and Communication (DMAC) pathway that focuses on video and television production. The skills built during their years in the program culminate with hands-on experience both in front of the camera and behind the scenes.
The documentary focused on the strains the citizenship process can have on youth and their families. DACA (Deferred Action for Childhood Arrivals) was also addressed, as well as the positive experiences that have come from gaining citizenship.
The film the students produced was screened with 10 other finalists at the Rochester Teen Film Festival.
Please join us in congratulating Muhanuka, Lah, Yusef Mberwa on this well deserved honor.