Return to Headlines
World of Inquiry Seniors Participate in College March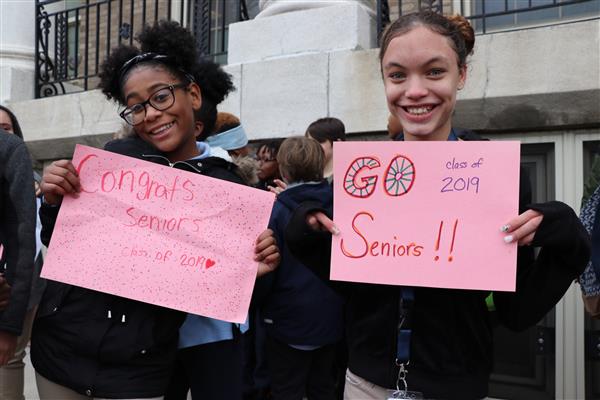 Students from the World of Inquiry School No. 58 participated in a march filled with excitement on Friday, December 14, 2018 to declare their intent to attend college.
World of Inquiry's senior class marched from the school campus on University Avenue to Rochester's City Hall where they mailed letters declaring their intent to apply for college, since applications are completed online. This group joined other seniors in marches that took place across the country, while peers, teachers, community leaders, and leaders cheered them on.
Rochester Mayor Lovely A. Warren said, "We are honored that each and every one of you are here today. We want the very, very best for you. I know this year, your senior year, is one where you think about the future and what's next. I want to tell you, from the bottom of my heart, how very, very proud I am of each and every one of you. Your city is behind you 100 percent."
Superintendent Barbara Deane-Williams said, "We are working very hard to renew, refresh, and reset our city schools. Parents, teachers, and all community members are absolutely vital partners. This is an exciting time. You are outstanding students and phenomenal representatives. You've had a wonderful opportunity to work with teachers that love and care about you, and a community that has wrapped support around you in a school that is nothing short of phenomenal.
The College March provides a forum to celebrate seniors and to encourage all to apply to college and inspire underclassmen to follow in their shoes. When students mailed their letters, they also included notes of gratitude for adults who have shown them support and guidance through the years.