Return to Headlines
RCSD Cabinet Participate in Viewing of I'm Not Racist… Am I?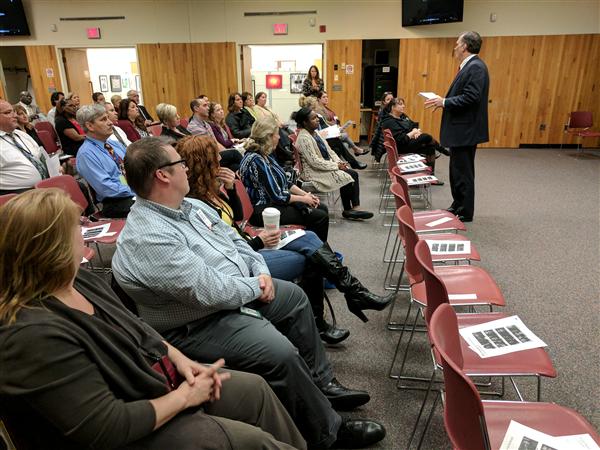 April 4, 2017—Today members of Superintendent Barbara Deane-Williams' Cabinet viewed the documentary film I'm Not Racist…Am I? where they were immersed in conversations led by Superintendent Deane-Williams and West Irondequoit Superintendent Jeffrey Crane immediately following the film. Everyone agrees that there is still much work to be done to not only create equity within our District, but also to deconstruct structural systemic racism in everyday life.
This film is part of a larger initiative—Deconstructing Race—developed by The Calhoun School to create a multimedia platform to get young people, their teachers and their families talking, and doing something, about structural systemic racism. Along with events like the March 31 ROC2CHANGE Student Summit on Race hosted by RCSD students at the Wegmans Conference Center, this film encourages us to have courageous conversations about race and its impact on school communities.
I'm Not Racist… Am I? is a feature documentary film about how our next generation is going to confront racism. It follows 12 teenagers from New York City, who came together for one school year to talk about race and privilege in a series of workshops, and in conversations with friends and family members. In documenting the experiences of these 12 teens, the filmmakers hope to inspire others to recognize and interrupt racism in their own lives.