Information about RCSD Food Services
Food Service supports student achievement by efficiently providing high quality food services. The Food Service Department serves approximately 13,700 breakfasts and 25,000 lunches are served daily at 54 sites, including 1 parochial school. This program includes operational and support personnel totaling about 246 people comprised of full and part-time employees. The elementary school food services program is operated through a centralized food production kitchen while the secondary food services personnel prepare meals on-site. Approximately 80% of the students attending District schools qualify for free and reduced price meals.
---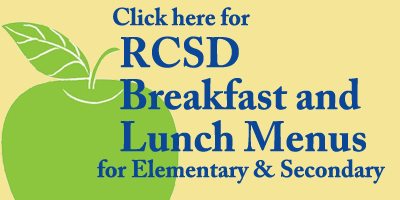 ---
Income Data Forms
There are many Federal grants and services that are dependent on this information each school year that benefit District program and parents. Some examples of the savings to parents are tutor services for our students, learning resources, and exam fee exemptions, which can average $90.00 per exam. This information will help us get the resources students need for success.
Online form collection and downloadable data forms are now available. We appreciate your diligence in helping support our children's learning experiences. If you have any questions, please call 585-336-4100.
Forms
---
NEWS!

RCSD and the "Healthy, Hunger-Free Kids Act"
The hard work of implementing the federal "Healthy, Hunger-Free Kids Act" signed by President Obama in December has already begun at the Rochester City School District. The changes are being phased in starting July 1, 2012 and over the next few years, but program administrators plan earlier implementation. In fact, several of the changes have already been implemented in the RCSD.
Following is a chart explaining the key areas for students and parents.
Change

Status

RCSD Implementation

Adding mandatory fruit serving at breakfast




Students are already offered fruit at breakfast; they will now be required to take it.

Increase amount of fruits and vegetables to one full cup for students grades 9-12

Students will not be required to take the serving.

Milk choices must be skim or 1 percent milk




Implemented in RCSD 2010.

At least half of all grain products used must be whole-grain.




Already implemented in RCSD, including breads, pastas, rice and pizza dough.

Sodium reduction

RCSD already using lower-sodium meat and packaged food products when available; will continue to source more products for the new guidelines set for 2014.

Breakfast content

Two grains must be offered before a protein. For example, two pancakes and a sausage.

Calorie Count Maximum

Maximum calorie counts were not previously established – only minimum counts. The new counts are as follows:

| | | |
| --- | --- | --- |
| Grades K-5 | Grades 6-8 | Grades 9-12 |
| Breakfast: 500 | Breakfast: 550 | Breakfast: 600 |
| Lunch: 650 | Lunch: 700 | Lunch: 800 |