Dear Parents/Guardians,


It's hard to believe that it is already April! It may not feel like spring, but it's definitely here! State Testing is also upon us. Our 3rd through 6th Grade Students will be taking the ELA and Math Exams and our K-6th grade English Language Learners will be taking the NYSESLAT assessment.
We have been working diligently all year to introduce the new curriculum and get ready for these assessments. For the past few weeks, teachers have been reviewing test strategies and encouraging students to do their best. Our younger friends (k-2) have also been reminded of ways they can help their older friends (3-6). It's time to take a deep breath and reflect on all the progress that we have seen this year. Let's cheer our students on and remind them that they can do this!!!! We are proud of all of their hard work.
Please keep the following in mind during our testing season:
As much as possible, avoid scheduling appointments for the testing dates.

Make sure that your child gets a good night's rest the night before the test.

Encourage your child to eat all of his/her breakfast on the morning of the test.

Encourage, Encourage, Encourage your child to try his/her best ~ that's all we ask.
Thank you for your continuous support,
Mrs. Fortiche
This week's picture stars a few happy students enjoying a healthy lunch!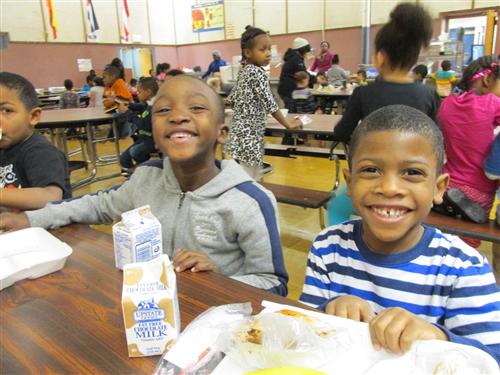 This week's video stars our Mrs. Bernards 5th Grade Class.