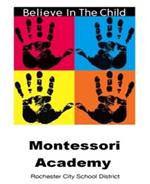 Montessori Academy
Students Report 7:50 a.m.
Dismissal 2:10 p.m.
Greetings! It's 2014, a brand new year! Rochester has certainly provided us with the Winter Wonderland and a cold one at that. If you have been in Rochester for more than a few years, you know that winter here can bring its challenges. At this time of year, it is a good idea to talk with your children about cold weather safety. Extra care is needed, especially in younger children, to be sure that frostbite does not occur. It is important to check your children's, even teen's outerwear everyday during extreme weather conditions. Warm jackets, hats, scarves, boots, and an extra pair of dry gloves in their pockets will protect them during extremely cold temperatures.

I hope the long winter recess provided you with time to spend with your child that included reading and talking about what you have read. I encourage you to continue to read with your child daily... the more you read, the more you know. During the month of December, we have been focusing on improving our students' writing skills. It is suggested that after your child reads, have them write about what they have read. More complex writing involves talking about the characters, making connections with the reading and real life experiences, and writing from multiple texts. Thanks for all you do to help support what we are teaching your child at school!

The end of the first semester will take place at then end of January. Report Cards will come home during the week of February 10, 2014. Our Pre-School students will receive a checklist to help parents understand the learning that has occurred for our very young students. I ask that you set up a time to meet with your child's teacher during the month of February to review your child's progress toward their goal for the year. All children have an identified goal that both you and the child should be aware of. Children must know where they are and where they need to get to by the end of the year in order to get there. If you do not know where you are going, you may wind up anywhere. The goal is for all students to be readers by the end of third grade!
This newsletter (on left, under Announcements) includes many important items. Please take time to read through it carefully. Feel free to contact me at the school 325-0935 or via email Shirley.green@rcsdk12.org. Our goal is to meet the needs of students and families.