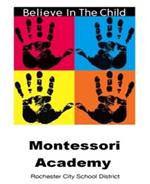 Montessori Academy
Students Report 7:50 a.m.
Dismissal 2:10 p.m.
Dear Students and Parents/Guardians
I would like to take this time to welcome our new and returning families. We are building a community within our school and you and your child are a very special part of our community.
Montessori Academy is warm, friendly and exciting place to explore the new possibilities. Our motto, "Believe in the Child," is truly what the learning experience will be for each and every child. Our goal is to ensure that your child gets the best possible education while at Montessori Academy.
Please join us at our Welcome Back / Family Orientation, which will be held on Thursday, August 28, 2014 at 6:00 PM. We will meet in the cafeteria for a brief overview of what it means to be a student at Montessori Academy, what a Montessori school has to offer and the possibilities beyond this year. Each family will receive a folder with the Parent Handbook and several school forms to complete. We will also offer a tour of the facility, visit classrooms and meet/greet your child's teacher. Let's begin building the community for your and your child.
We will continue to reinforce high expectations for all: students, staff and families. In doing so, students will set goals and monitor their learning throughout the school year. During our Town Hall/Open House event we will share the school's data with our community. We can only get better if we all put our efforts into the learning process. Some ways that you can help include:
Be sure your child comes to school every day and on time. (Goal: 95% attendance)
Be sure your child reads at least 30 minutes a day (this includes Homework)
Reinforcing our dress code policy.
Practice the Montessori Grace & Courtesy and Peace elements with your child.
If you have a new address or phone number, please contact the school for updates. This will ensure that transportation is set up correctly on the first day of school.


This newsletter (on left, under Announcements) includes many important items. Please take time to read through it carefully. Feel free to contact me at the school 325-0935 or via email Shirley.green@rcsdk12.org. Our goal is to meet the needs of students and families.