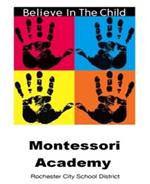 Montessori Academy
Students Report 7:50 a.m.
Dismissal 2:10 p.m.
Spring is coming (soon we all hope)! Let's get ready to put away our boots, coats, hats, and mittens.

Students in Grades 3-6 are in the midst of preparing for the upcoming NYS Math and ELA Assessments. Our students have been working hard within the classroom on the rigorous NYS CORE Curriculum. Many staff have also been working on aligning the NYS Common Core Curriculum into our Montessori philosophy. Some are moving farther along than others, but we are confident that we will get there.

NYS ELA Assessment -- April 1-3
NYS Math Assessment -- April 20 - May 2

Please make sure your child gets plenty of rest and arrives to school each day on time. Testing prepartaion will begin promptly at 8:15 AM.

Our PTA continues to work hard to support our school. They are always looking for more familites to join the PTA to help plan and implement the activities. Our PTA also has an active website and Facebook pages that highlights the work of Montessori Academy.

Families that have incoming Pre School and Kindergarten children interested in joining Montessori, please let me know. I want to verify that your child is already registered and will be included in the lottery.

We are a school with a uniform expectation. If you need uniforms, please contact your child's teacher or the main office. We are here to support you!
This newsletter (on left, under Announcements) includes many important items. Please take time to read through it carefully. Feel free to contact me at the school 325-0935 or via email Shirley.green@rcsdk12.org. Our goal is to meet the needs of students and families.