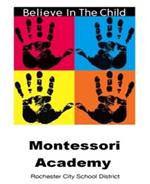 Montessori Academy
Students Report 7:50 a.m.
Dismissal 2:10 p.m.
The first Marking Period has quickly come to an end. Students have been engaged in meaningful learning for 10 weeks. Our students have been exposed to Common Core Learning Modules and Domains at all levels. Many of our children have worked with Montessori materials as they make connections to real-world experiences and the NYS curriculum.
Classroom teachers have established benchmarks and targets for all of our students in grades K-6. These benchmarks and targets will be the primary focus of planning lessons to meet the needs of all students. Children and parents should be aware of the targets for each grade level and the individual student's targets. Report Cards will be sent home the week of November 18. If you have not met with your child's teacher, please arrange a time to meet.
Montessori will be on SPOTLIGHT at Central Office during the month of November. Please stop by and see the great work occurring at Montessori Academy. Thank you to all of the families who have supported our events this year: Welcome Back Pizza Night, Walk-a-thon, Parent Institute: Montessori Expo and Movie Night! Look for all of our school events on the Montessori website.
This newsletter (on left, under Announcements) includes many important items. Please take time to read through it carefully. Feel free to contact me at the school 325-0935 or via email Shirley.green@rcsdk12.org. Our goal is to meet the needs of students and families.