Please click on the links below for the prerecorded videos of the School No. 7 Administrators reading Holiday Books for the students.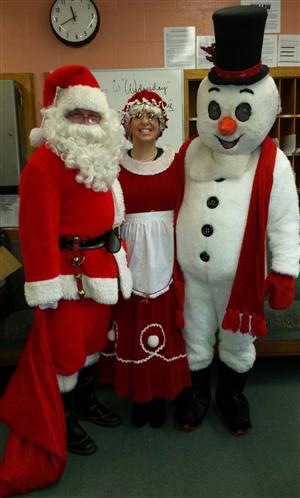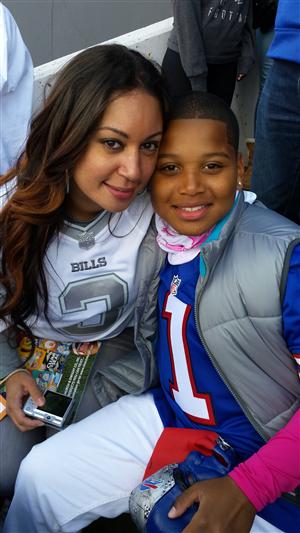 Congratulations to Marcus Cox, a current 6th grader at School No. 7, for being selected as the Fuel Up To Play Kickoff Kid at the Buffalo Bills vs. New England Patriots Football Game on 10-12-14. He was nominated by three staff members at School No. 7 and was selected by the American Dairy Association due to his great academics, athletic achievements, community service and for being an excellent role model to his peers. He won 4 tickets to the Bills Game, 4 on field passes, a custom made jersey with his name on the back and a framed photo. He also ran onto the field in the second half and retrieved the kick off tee. We're so proud of you Marcus.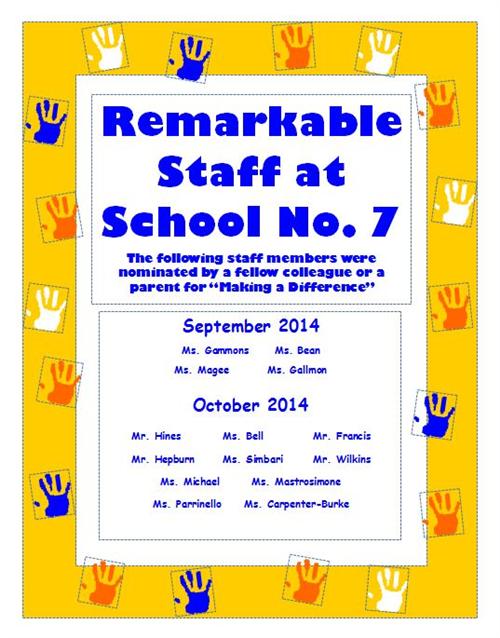 Dear Parents and Guardians,
Welcome back to School No. 7! Everyone on our staff is so excited to have our students return! We have been busy preparing activities and lessons to engage and excite your child, as we help them experience and learn new material.
Once again this year students will be wearing uniforms. The uniforms will be tan, black or blue trousers, shorts, skirts or dresses. The tops will be yellow, white, or blue with no writing.
Please remember there is no supervision before 9:00 a.m. For the safety of your children, students that walk or are dropped off are not to arrive prior to 9:00 a.m. every morning. At 9:00 a.m., all students will enter the building. Student schedules and material lists will be coming your way in the near future.
Our vision for this coming school year is to provide your child with three things that have not changed. Your child will be in a safe environment, we are going to focus on helping each and every student be successful, and our staff will work as one cohesive team to get the job done. Our motto is going to be teamwork!
We look forward to working with you and your children in the coming year! Sincerely, it is both a privilege and an honor to have the opportunity to work with your children and play such an important role in their lives as they learn and grow into successful young adults.
Please remember these dates for upcoming events at School 7:
Back to School Orientation for new families - Tuesday, August 26 from 10:00 a.m. to 1:00 p.m.
Open House – Tuesday, September 23 from 5:00 p.m. to 7:00 p.m.
Thank you very much for your time, support, and the opportunity to work with your child.
Sincerely,
Mr. Lincoln
Ms. Roberts
Ms. Markman
Students Report 9:00 a.m.
Dismissal Begins At 3:25 p.m.
Accelerated Readers for October
Grade 2 Na'Zyia Pulliam-Noble-Richardson/Morgan's Class
Grade 3 Anastasia Willis - Hart's Class
Grade 4 Anastasya Cacioppo Gordon - Clancy's Class
Grade 5 Jason Maio - Carey's Class
Grade 6 Joseph Saddler - Burke's Class

SOARING Students of the Month for October
| | |
| --- | --- |
| TEACHER | SOARing STUDENT |
| K | |
| Haugh/Caminiti | Keyamiah Collier |
| D'Aloisio | Binisha Parajuli |
| Minichiello | Able Patterson |
| Garcia-Leach | Davelle Brown |
| 1st | |
| Servoss | Tymone Hannah |
| Terrana | Yandel Rivera |
| Greco | Isaira Torres |
| Koonmen | Jose King |
| 2nd | |
| Wilson | Seth Patterson |
| Richardson/Morgan | Jayson Figueroa |
| Padula | Andre Walker |
| Cadirao | Robert Campbell |
| 3rd | |
| Page | Jonathan Jackson |
| Craven | Kayden Jones |
| Kendrick/Sinclair | Hamdi Amadi |
| Hart | Julias VanHoorhies |
| 4th | |
| Mastrosimone | Dejah Grant |
| Clancy | Ethan Welsher |
| Stanley | Taliah Williams |
| Moucha/Yildirim | Alicia Montgomery |
| 5th | |
| Romero | Emilio Sanabria |
| Carey | Elizabeth Hartzog |
| Hepburn | Chyenne Ernisse |
| Yasses | Ajir Thompson |
| 6th | |
| Colon/Laszek | Juliana Roman |
| Carpenter-Burke | Shaheim Thomas |
| Liberatore | Jevont'e Adams |
| Dawson | Xavier Shone |
| BAND | Elizabeth Hartzog & Serenity Rogers |
Perfect Attendance
Marking Period One
Grade K Room 103 Ms. Haugh
Taye Brown
Jasire Bullard
Joshua Felong
Kameron McCawthan
Ja'nyiah Rouse
Grade K Room 105 Ms. D'Aloisio
Ahmed Al-Mugannahi
Isaiah Ariosa
Aniaya Colbert
Samiya Conyers
Giovanni Delgado
Ary'anna Mateo
Grade K Room 107 Ms. Minichiello
Journi Betances
Cal'juhn Gignac
Able Patterson
Angel Truax
Grade K Room 153 Ms. Garcia-Leach
Destiny Bouey
Tyler Boufford
Davell Brown
Anistrado Graham
Devon Roman
Grade K Room 155 Ms. Fowler
Darrell Downs
Nicholas Reeves
Zamareah Ward
Grade 1 Room 140 Ms. Servoss
Saniyah Dennis
Jazzaria Ealey
Baylie Hannon
Miguel Lora
Angel Manning
Iyasia Mason
Jah'Mere Pritchett
Grade 1 Room 142 Ms. Terrana/Ms. Wohlfeld
Santino Montalvo
Amira Parnell
Grade 1 Room 144 Ms. Greco
Abdikadir Abdirahman
Ku Reh
Grade 1 Room 146 Ms. Koonmen
Ayaina Colbert
Landon Erenstone
Ariel McGill
Nikolas VanVoorhis
Alexa Vizcarra
Grade 2 Room 310 Ms. Wilson
Tania Bethel
Billee Campbell
Ta'nasia Fisher
Honor Maddox
Seth Patterson
Grade 2 Room 311 Ms. Richardson/Ms. Morgan
Matthew Ange
Autumn Bickom
Terrance Clark
Julian Cotto
Wayne June
Keyon McCawthan
Na'zyia Pulliam-Noble
Jeremy Rodriguez
Grade 2 Room 312 Ms. Padula
Abrahem Al-mugannahi
SaNiiyah Fluitt
Kaliyah Hawkins
Frances Vizcarra Reis
Danny Zou
Grade 2 Room 313 Mr. Cadirao
Destiny Bray
Robert Campbell
Elysia Douglas
Derek Lee
Destiny Santini
Yah'tiara Wilson-Lewis
Grade 3 Room 149 Ms. Page
Aniya Bedell
Indiyah Hamilton
AnaMarie Lester
Cahj'miere Robinson
Dominic Roman
Grade 3 Room 151 Ms. Craven
Eh Gay Doh
Alyiah Engert
Isabella Gervasi
Grade 3 Room 203 Ms. Kendrick/Ms. Sinclair
Hamdi Amadi
Xavier Clark
Shanyce Huey
Michael Martin
Aaliyah Roman
J'Kobe Thompson
Grade 3 Room 245 Ms. Hart
Dylan Fouquet
TeJean Giles
Suleman Mohamed
Jakaya Saddler
Makayla Smith
Julias VanVoorhis
Anihya Vick
Trinati Walters
Savanah Welsher
Marquis Wilson
Grade 4 Room 240 Ms. Moucha/Ms. Yildirim
Abrianna Allen
Shaamir Brown
Kiara Coleman
Kaniya Crawford
Tyler Hopkins
Johnnie Medina
Alicia Montgomery
La'Mere Smith
Jalen Williams
Grade 4 Room 241 Ms. Mastrosimone
Bae Reh
Manuel Rivera
Markus Williams-Ricks
Grade 4 Room 242 Ms. Clancy
Zahaira Brooks
Janezz Bullock-Douglas
Markiest Griffin
William Kingsbury
Alishia Snyder
Grade 4 Room T1 Mr. Stanley
Leila Aden
Rukiya Awale
Taniyah Bell
Kani Crawford
Antonio Diaz
Christopher Diaz
Lakennya Fluitt
Ross Johnson
Clarence Keels
Dawnielle Longdue
Olivia Marcano
Grade 5 Room 306 Ms. Romero
Noah Crawford
Andrew Edwards-Ferrell
Laryn Fulmore
Je'Nasia Harrell
Tahj Jackson
Symora Keene
Caitlin Marcano
Nalani Nelson
Brian Short
Grade 5 Room 307 Ms. Carey
Wyllah Hughes
Jason Maio
Emielo Ottley
Thaw Tong
Grade 5 Room 308 Ms. Yasses
Alessandro Cedeno
Phillip Morley
Shamil Rodriguez
Grade 5 Room 309 Mr. Hepburn
Amaria Blocker Garcia
Dairon Brown
Paul Calvin
Neftali Cruz
William Patterson
Quione Tillmon
Willa Wang
Saree Ware
Grade 6 Room 238 Ms. Carpenter-Burke
Ian Frank
Da'zhanje Holmes
Devin Leach
Emilio Lynn
Shiair'e Nesmith
Calvin Rivera
Joseph Saddler
Grade 6 Room 243 Ms. Liberatore
Shamir Calloway
Ryan Classen
Jenilimar Gonzalez
Joshua Kesby
Chris Lake
Jose Martinez
Dwight Reid
Sederious Wilson
Grade 6 Room 244 Ms. Laszek/Ms. Colon
Juliana Roman
Thalia Rooks
Tylor Truax
Grade 6 Room 246 Ms. Dawson/Mr. Wilkins
Davionne Blake
Jordy Gil Villar
KenVontre James
Jaden Simms