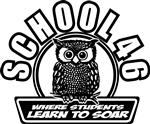 Congratulations to our Student Leadership Group for success on their last service learning project! They raised funds for the Leukemia and Lymphoma Society's Pennies for Patients Program. Let's celebrate how Charles Carroll School #46 students and staff have actively engaged in giving back to the greater community. Way to Go School #46!

All Pro Dads Program Kick Off

I'd like to introduce a new currently forming group in our school. Our All Pro Dad Program has kicked off this month. We are excited for this newest organized parent group that brings intentional focus to helping fathers raise their children. If you are interested in learning more about this program, please contact Mr. McCloud, our parent liaison at 288-8008 extension 2112.

Summer Enrichment

Registration for the GRHF MCC Summer Learning Program is continuing until all seats filled. Please contact Aria Camaione-Lind, our Greater Rochester Health Foundation Project Coordinator, at extension 1123 for more information. We have not heard of any other district summer programming.

Dismissal

Unfortunately due to weather and flooding in our area, recently we have had to dismiss students using alternate dismissal protocols. While at times we receive this information last minute, we want to thank parents for working closely with our staff in these unique cases. By following instructions at the request of personnel and working closely with our office staff we have successfully done these dismissals with minimal disruption to our normal operations. We thank you kindly for your continued support.
End of the Year Events

We have many great things happening or on the horizon! Stay tuned for information regarding our AIR Residency, the Scholastic Book Fair, and the PTA Sponsored June Picnic. As in past years, our 6th Grade students will be participating in additional activities the next few months to commemorate the closing of their elementary school years at Charles Carroll School #46 and to celebrate their preparedness to "move on" to Middle School. Their participation in these events will again be based on an established parent, teacher, and student agreement.

Dates to Remember

Here are a few items to note on your calendars for April:

• Superintendent's Conference Day April 7th. There is no school on this date.

• PTA sponsored Books for Bingo will take place on April 12th

• Report Cards will be sent home on April 13th, 2017

• Spring Recess is April 14th- April 21st

• NYS Mathematics Assessments Grades 3-6 will take place May 2nd - 4th

We look forward to having an engaging last quarter of the year. Please know that I am always available if you have any questions or concerns. Happy Spring!
Sincerely,
T'Hani Pantoja, Principal