Welcome to the Children's School of Rochester
What's New?
Our next PTO (Parent Teacher Organization) Meeting is on April 22nd at 6:30 pm in the school library. Snacks are provided and children are welcome. We'd love to see you there!
Coupon books are available until the end of March!
Support CSR by purchasing a SaveAround Rochester Coupon Book! They cost $20 each and are filled with coupons for many great local restaurants and attractions. Buy one from Paul Urai at briefing, or send an email to csrpto@gmail.com and we'll hook you up!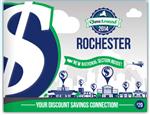 We believe that in order for students to learn, to know how to learn and to love to learn, a structure and curriculum which is child centered must be firmly articulated and put into operation. We also believe that learning must be bonded with the child's home culture and that the structure and curriculum in place must explicitly value and nurture this bond.
The mission of this school is to enable students to become critical, literate thinkers and doers. The mission will be met through:
1. A child-centered structure and curriculum, which focuses on the child's psychological, physical, academic, and socio-cultural development.
2. Teaching which is self-conscious, reflective, and subordinated to learning.
3. A development of multicultural respect, understanding, and awareness.
The school is a celebration of childhood where a sense of community underpins learning and where curriculum and activities are structured so that they are hands-on, meaningful, and collaborative. The atmosphere of this school will be non-threatening, challenging, and authentic.
School Hours:
Students Report 7:35 a.m.
Dismissal 2:10 p.m.
There is no longer early dismissal on Wednesdays.