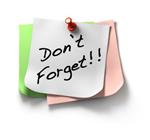 -D& C visit May 5th - 9:45 a.m.
-Field test of 8th grade science May 10th – more information to come
-2015-16 standard bearers Kyonna Ford, Brian Boose , Esperansa Virella. 2016-17 standard bearers - Trevor Herry and Zymeria Daniels. Transfer of the Flags Ceremony is Sunday, May 15th.
-Last day of School for students is Wednesday, June 22nd.
-Last day for teachers is Thursday, June 23rd.