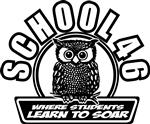 Dear Parents and Guardians,
It's hard to believe this is the last newsletter of the year! We have had such an amazing and engaging school year. Our students have done some amazing things this year. Here are a few district wide STEM recognitions this year:
Our Future Cities Team won District Champions in a competition at City Hall.

Five of our students (in Grades 3, 4, 5) made it to the semi-finals in the District 24 Challenge - A Math Fluency Competition. This was our FIRST year competing. One student, Cadearrell Sneed, came in 1st place for the 4th Grade.

Also our 4th Grade Team took 2nd place in the Engineering Structures Competition sponsored by Xerox (with City-Wide and Suburban Participation)
Way to Go School No. 46! You have represented our school very well publically!
In addition, the Arts-related opportunities our students have participated in have been incredible. From Culinary Exploration to Integrated Arts & Technology Experiences, our Expanded Day programming continues to offer rigorous, fun enrichments that engage students in learning. We should all be proud of our students' and teachers' efforts this school year.
Summer Enrichment Programming
Thank you parents for understanding how important engaging your child over the summer truly is to our continued instructional growth. Research shows that students can lose as much as three months of grade-level reading equivalency over the summer months. By enrolling your child in one of the many opportunities available and encouraging summer reading, you are helping us to prevent summer learning loss. This year we are piloting a Virtual Summer Scholars Program that will engage students in a virtual summer learning opportunity. Stay tuned for information on our summer reading challenge.
Finally, thank you for a wonderful year and sharing your children with us! Watching them grow over the past year has been an incredible honor. Have a safe summer!
Sincerely,
Ms. Pantoja
Principal, Charles Carroll School #46
Dates to Remember:
June 7, 8, 9 Artist in Resident Program

Friday, June 9 School Picnic 5:30 – 7:30

Tuesday, June 13 Field Day

Monday, June 19 Gr. 1-5 Awards Assembly

Tuesday, June 20 Gr. 6 Moving On / PreK Moving Up

Wednesday, June 21 Kindergarten Moving Up

Thursday, June 22 Last Day of School for Students