School of the Arts
is a
Rochester City School District secondary
school.
Nestled in the Neighborhood of the Arts, it is
located in the
heart of Rochester's Cultural District.
If
you're interested in the arts,
talented,
desire high academic
achievement, and
you
want to develop your skills
...
SOTA is the place for you!
Voted Rochester's Favorite City School
Poll Conducted by Rochester
Education Foundation at the 2012 Jazz Festival.
45 Prince Street, Rochester, NY 14607
---
Lifetouch School Picture Makeup Day
Photos are mandatory for all SOTA students and
will be taken during school lunches.
To purchase school photos and for more information visit: mylifetouch.com

---
RTS Transit Center Open House
Saturday November 15
10 AM-12 PM
Click Below for Additional Information
RTS Open House Information
---
ADVANCE SALE TICKETS FOR THE 2014-2015 SEASON
ON SALE NOW
AVAILABLE ONLINE ONLY CLICK BELOW...

SOTA's 2014-2015 PERFORMANCE S
EA
SO
N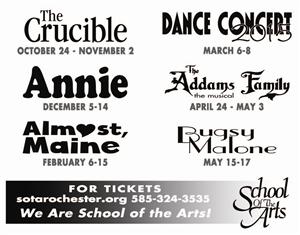 TICKET PRICING INFORMATION
$10 - Adults
$8 - Senior Citizens, Students: 5 Years-Old and UP
$5 - Toddlers:
2-4 Years-Old
Infant on Lap Free: 1-24 Months
$5 - SOTA Students: ID Required
Our Mission is Student Success...
Academic, Artistic and Humanistic!
---
---