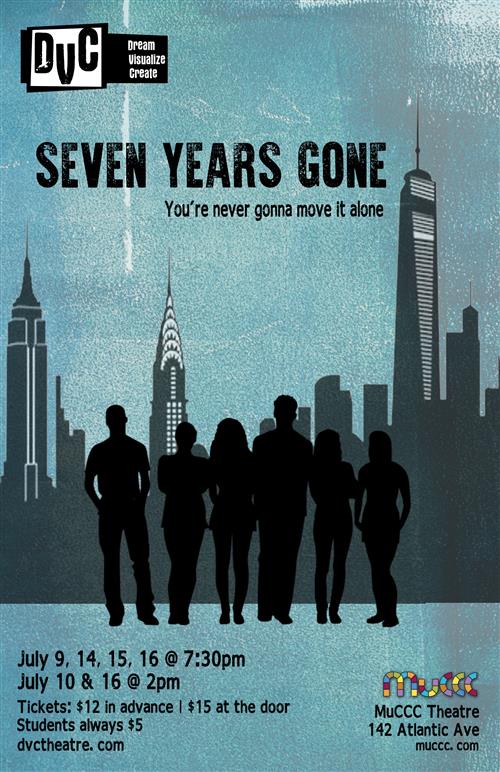 Wilson's own DVC is Back on Stage
Save the Dates. Tickets go on Sale June 1
After 2 1/2 years away, DVC (Dream/Visualize/Create, remember?) returns to the stage with Seven Years Gone, an original production featuring this lovely and amazing cast and band:

Wilson grads:
Adriana Allen
Sheyranna Cajigas
Kevin Chaba
Kaleb Chitaphong
Jamie DiGiacco
Jack Enderle
Artemis (Gwen) P. Scott
Erich Snell
Current Wilson students:
Eleanor Gaul
Aianna Kettavong
Local artists:
Katie Keating
Alexus Maxam
J. Savastano
Doug Waterman
Kaleab Wiggins
Live @ The MuCCC (Multi-use Community Cultural Center- 142 Atlantic Ave)
July 9 @ 7:30
July 10 @ 2
July 14 @ 7:30
July 15 @ 7:30
July 16@ 2 & 7:30
Description
A world premiere event. Seven years after a tragic event changed the trajectory of their lives, a circle of friends struggles to find purpose (and stay sober) amid the challenges of everyday life in 21st century America.
The show deals with addiction and contains adult language and situations. Recommended for teens and adults.
For more information:
DVC, or Dream/Visualize/Create, is a collection of students and graduates of Wilson Magnet High School's drama club and local artists. 2022 marks the organization's 22nd year of bringing thought-provoking, affordable, challenging productions to audiences.