LyncX Youth in Transition Academic Program
The Youth in Transition Academic Program helps students in grades 7-12 who have chronically underperformed in school. Students are offered academic options ranging from regents diplomas, career and technical education, and general education diplomas (GED).
LyncX Star Program
Formerly known as NorthStar, the LyncX Star Program helps students with significant cognitive, emotional and behavioral challenges learn coping strategies, behavioral expectations and academic skills, to enable them to successfully reintegrate into comprehensive high schools. This is achieved through a nurturing environment, research-based interventions, and dedicated staff.
LyncX LTS Program
The LyncX LTS Program serves students in grades 7-12 who have committed severe violations of the RCSD student code of conduct. Students are provided with academic instruction along with the social-emotional tools they will need to return to their home school.
LyncX GED/CTE Program
The GED is for students who will not be able to meet the NYS Regents graduations requirements before they reach the age of 21. It is also for those who have outs The CTE program that is attached to the GED will prepare individuals to meet workforce needs by offering training in career fields that can result in employment opportunities.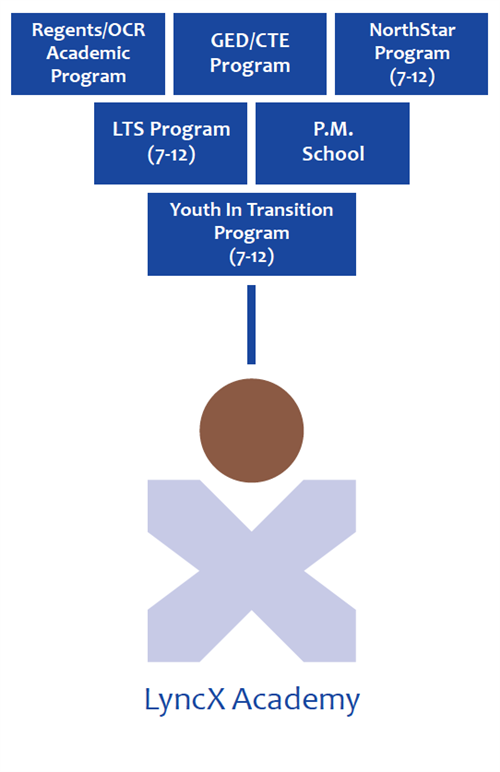 ---
The LyncX Academy also provides extended day in partnership with Hillside Work Scholarship and EnCompass and offers Online Credit Recovery (OCR) for students in need of extra academic and extra-curricular supports.