Return to Headlines
12 RCSD Students Honored in JUST LAW Program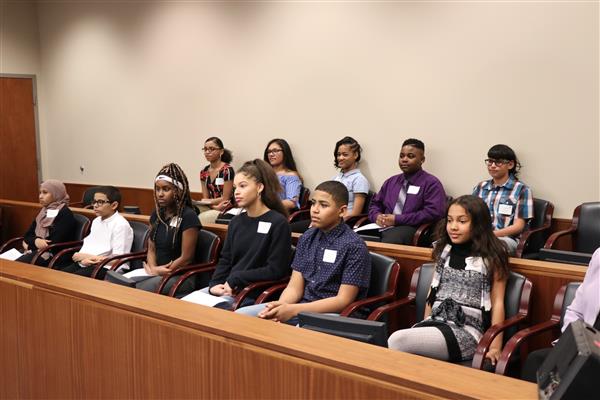 The Rochester City School District would like to congratulate the students who are the first graduates of the JUST LAW program.
The students were honored Thursday, March 14, 2019 during a ceremony at the Hall of Justice in Downtown Rochester. J.U.S.T. L.A.W. stands for Justice, Understanding, Societal Trust, Literacy, Attendance, and Writing.
Students from eight of our schools participated in the program, which was a partnership between the RCSD, the City of Rochester, the New York State Unified Court System, WDKX, and the Rochester Black Bar Association. Judges from the local area visited 18 of our schools and addressed over 2,000 students in the fall of 2018.
The program explored several topics including; the importance of school attendance, ways for students to express concerns, questions, desires, and/or expectations relating to the court system. More than 450 students entered an essay contest on the topic of "What Justice Means To Me."
Students recited their winning essays in front of parents, Mayor Warren, Superintendent Lowengard, principals, judges, and representatives from the Rochester Police Department.
Congratulations to the following students;
Ruwelda Abdulrahman, a 7th grader from World of Inquiry School No. 28

Luis Collazo, a 6th grader from Flower City School No. 54

Asia Dillard, a 7th grader from Henry Hudson School No. 28

Arianna Dorado, a 8th grader from Enrico Fermi School No. 17

Erick Martinez Figueroa, a 6th grader from Abraham Lincoln School No. 22

Skyler Johnson, a 6th grader from Dr. Louis A. Cerulli School No. 34

Jayla Lebron, a 8th grader from School of the Arts

Yuleizy Maysonetk, a 8th grader from Henry Hudson School No. 28

Shazia Muhammad, a 7th grader from World of Inquiry School No. 58

Janetlise Ortiz, a 8th grader from Integrated Arts and Technology High School

Omar Overstreet, a 6th grader from Dr. Louis A. Cerulli School No. 34

Abdiel Soto, a 6th grader from Abraham Lincoln School No. 22