Return to Headlines
Three RCSD Students Recognized with "Do the Right Thing" Awards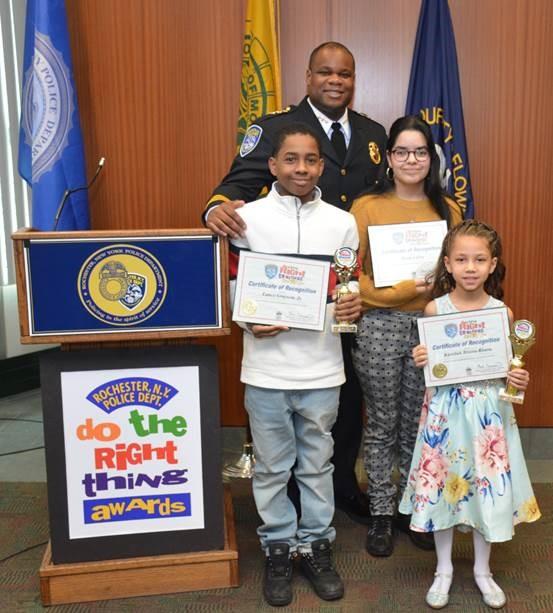 On Thursday, February 7, 2019, at the February award ceremony for the "Do the Right Thing" program, three Rochester City School District students were recognized for their positive behavior, accomplishments, and good deeds.
Lance Grayson, Jr., Henry Lomb School No. 20
Sixth-grader Lance Grayson went out of his way to help School No. 20 staff member Ms. McCuller after she had fallen while walking into school. Because Lance demonstrated a level of maturity, compassion, and selflessness, Ms. McCuller nominated Lance for this award to show her gratitude. Lance displayed the type of role model behavior that the "Do the Right Thing" program is proud to recognize.
Paola Laboy, School of the Arts
School Counselor Ms. Coccia nominated ninth-grade honor student Paola Laboy for putting her classmates at ease and making them feel comfortable even in the most difficult situations. When Paola noticed that a new classmate was struggling with the behaviors of some students, she reported the bullying, which led to all parties participating in a restorative circle at the school. The students were given the opportunity to express their feelings and come to a peaceful understanding. In her spare time, the Drama major writes poetry and performs with the Rochester Latino Theatre Company. What a great example of standing up against bullying.
Kamilah Rivera-Rivera, Charles Carroll School No. 46
During a field trip to Stokoe Farms last October, second-grader Kamilah Rivera-Rivera noticed a young child crying because she could not find her mother. After reporting it to her teacher Mrs. Perkins, they sought assistance from a Stokoe Farms employee who was able to help the child. Mrs. Perkins was so impressed that Kamilah was able to recognize another's distress and act upon it, that she nominated her for this award. Mrs. Perkins describes seven-year-old Kamilah as a caring human being who thinks of others before herself. Kamilah serves as a role model for her peers by always striving to do the right thing.
The goal of the "Do the Right Thing" program is to foster positive relationships between the Rochester Police Department and community youth. The program rewards students who strive to make good choices, do well in school, give back to their communities, or demonstrate a turnaround or improved behavior. For more information or to nominate a child, visit cityofrochester.gov/DoTheRightThing.