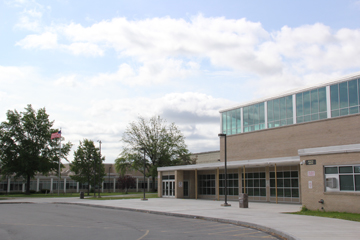 East Lower School is a Secondary School.

This school is currently in Receivership status by the New York State Education Department. For more information about Receivership or to view the school's improvement measures, please visit https://www.rcsdk12.org/receivership.
What Every Family Should Know
East Lower School is committed to offering a rigorous learning environment by creating additional time for teaching and learning daily. Scholars receive extra instruction in English Language Arts and math daily. Restorative practices are used to promote lifelong peaceful problem solving. Every day a 30-minute "Family Group" connects one adult to 10 scholars to foster relationship building and provide a personal support network for each scholar. East also offers a variety of academic pathways to ensure student success.

East is taking charge of its future by being tenacious, thinking purposefully, and advocating for self and others.
Program Features
Uniforms No
Busing School Buses
Foreign Languages Spanish
Health/Wellness Center Yes, U of R Health Clinic and SMILEmobile
Business/College/Faith Partnerships University of Rochester, Center for Youth, IBERO-American Action League, Hillside Work Scholarship, MCC Liberty Partnerships, Educational Talent Search, Connected Communities, Champion Academy, Villa of Hope, Foodlink, LawNY, College Prep Center, Step 2 College, and Encompass
Student-Parent School Compact Agreement required No
Unique Features
Longer instructional day, with literacy classes to enhance individual reading skills and double instructional time allotted for math.

Multiple community partners.

Restorative Practices used to resolve issues peacefully.

Bilingual program.

Family Group daily with one adult and 10 scholars to foster relationships.

A large offering of interscholastic sports for scholars in grades 7-12.

On campus University of Rochester Medical Clinic, which provides free services to any scholar enrolled at East.

Student Support Center with connections to community-based organizations.

Educational Partnership with the University of Rochester to enhance all components of the school.

Our 8th grade team coordinates a CTE tour prior to course selections for 9th grade. 8th grade scholars visit each program and hear from staff and scholars.

Literacy course for every scholar, based on strengths and areas for growth.

Four music offerings: band, chorus, strings, and percussion