Flower City School No. 54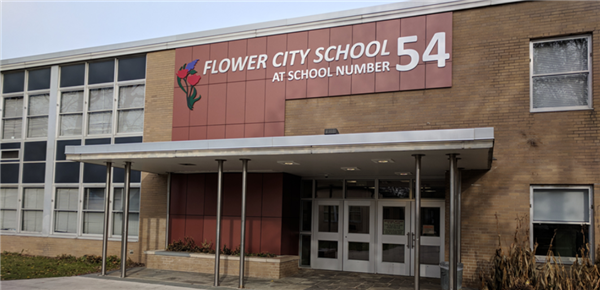 What Every Family Should Know
Program Features
Uniforms Required No

Foreign Languages No

English Language Learners Yes

Honors/Enrichment Classes No

Early Literacy Program No

Chorus Yes

Band/Orchestra Yes

Instrumental Music Lessons Yes

Sports Yes

Step Teams No

Extended/Expanded Day No

Saturday School No

On-Site After-School Care No

Summer Programs No

Business/College/Faith Partnerships Cameron Ministries
Unique Features
Here at Flower City School, we are committed to developing the total child in preparation for successful citizenship by instilling Eagle character traits. We have a Monthly Principal's Book of the Month that is connected to the Character Traits of the Month and the 7 Principles of Kwanzaa.

Restorative Practice principles are utilized amongst staff and students.

Safe and nurturing environment provides the foundation for successful learning environments with all classrooms starting each day with classroom morning meetings.

Weekly School-Wide Morning Meetings

As a school-wide instructional priority, all students engage in ongoing literacy development beyond the Readers and Writers Workshops, through the use of a Walk to Intervention model of instructional supports.

Student leadership opportunities are available through Standard Bearers, Safety Patrol and being Circle Leaders. In addition, our students are not only offered band and chorus, but there are instrumental music lessons including hand bells, recorders and mallets.

Partnership with the Center for Youth expands and enriches our students' opportunities to engage in restorative practices, while also developing self-regulation and coping skills, leadership skills and life skills.

Fully remodeled school building with state of the art furniture and technology. All intermediate grades have access to chrome book carts for 1:1 blended learning opportunities.

Active partnership with Cameron Ministries where students have the opportunity to attend after school programming.

Blossoming partnership with the North West Neighborhood Association.

Scholars have the opportunity to participate in a variety of ensembles that include- photography, social media club, arts integration, Stage Crew, and percussion.