Abraham Lincoln School No. 22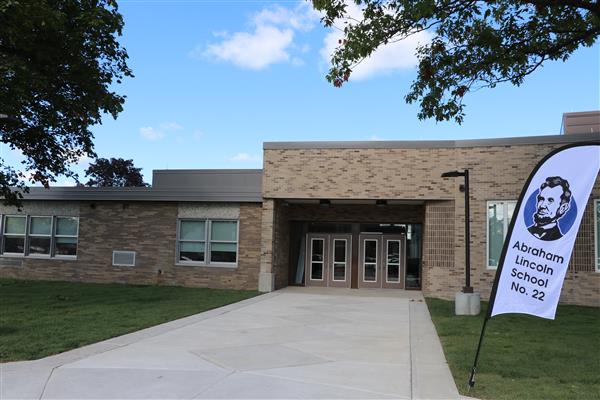 What Every Family Should Know
Program Features
Uniforms Required Yes

Foreign Languages Spanish

English Language Learners Yes

Honors/Enrichment Classes Yes

Early Literacy Program No

Chorus Yes

Band/Orchestra Yes

Instrumental Music Lessons Yes

Sports Yes

Step Teams No

Extended/Expanded Day Yes

Saturday School No

On-Site After-School Care No

Summer Programs No

Business/College/Faith Partnerships AmeriCorps, Baden Street Settlement, The Community Place of Rochester, Eastman Rochester New Horizons, First Unitarian Church of Rochester/UU22, Greater Rochester Quality Partner Council, Anthony Jordan Health Center, Monroe County Department of Human Services, Scott Spino Foundation, Smile Mobile
Unique Features
Multiple partnerships – Center for Youth Services, Church of Love, Trinity Emmanuel Church, Links4Kids, Suny Geneseo, Gandhi Institute, Edgewood Free Methodist Church, Greater Rochester Health Foundation, ROC the Future, Villa of Hope, Rcenter- Flint Street and many more.

Pre-K 3 and 4 (Early Intervention Available)

Strong Instructional Model - Collaborative Co-Teaching Model - Dr. Charles T. Lunsford School 19 and SUNY Geneseo are working together in a partnership. Through this partnership students will have the benefit of engaging in the CCTM (Collaborative Co-Teaching Model), receiving small group instruction daily in core subjects. Literacy and community building remain a focus.

Robust focus on Anti-racist Curriculum and Instruction

Strings for Success - a violin program, through a partnership with Center for Youth Services, for students in grades 3-8. Students travel to perform at various community organizations in Rochester, New York State, and throughout the United States.

Focus on Restorative Practices - Mindfulness Center, Support Center and Family Crew

Weekly Morning Meetings and monthly STRONG events – supporting school community (We are Lunsford STRONG!) and building expectations

Enhanced Arts Program –designed at each grade level aligned to our curriculum

Parents are connected to the school community through the School Based Planning Team, the PTO, volunteer opportunities, Greater Rochester Health Foundation, monthly parent events, and much more.

Intramural and modified athletics for 7th and 8th grade boys and girls, Student Council, Yearbook Club, violin orchestra, and much more.