Enrico Fermi School No. 17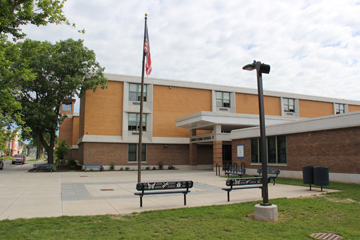 What Every Family Should Know
School 17 is a place of support and understanding. We strive to educate the whole child with respect for all. We seek parent and community involvement. As a school community, we value a safe environment in which to teach and learn. We embrace our diversity. We celebrate everyone, everything, every day!

Learn more about School No. 17!

Elearning page: bit.ly/17eLearning
School 17 Presentation (English): tinyurl.com/17expo2021
Presentación sobre la escuela 17 (español): tinyurl.com/17expo2021esp
Program Features
Uniforms Required No

Foreign Languages Two-Way Dual Language Immersion Program (English/Spanish)

English Language Learners Yes

Honors/Enrichment Classes Yes

Early Literacy Program Yes

Chorus Yes

Band/Orchestra Yes

Instrumental Music Lessons Yes

Sports Yes

Step Teams Yes

Extended/Expanded Day No

Saturday School No

On-Site After-School Care No

Summer Programs Yes

Business/College/Faith Partnerships Celebration of Life Community, Inc., Coordinated Care Services, Inc., Eastman Dental Center, Orchard Street Community Health Center, Healthi Kids/ Finger Lakes Health Systems, AmeriCorps, M.K. Gandhi Institute, IBERO American Action League, Center for Youth, The Community Place, SUNY Brockport, Charles Settlement House, Charles House Neighbors in Action, Hillside-Crestwood, Neighborhood Safety Net, Allendale Columbia
Unique Features
Neighborhood enrollment preference, sibling enrollment preference.





Strong emphasis on diversity, reflected by the school motto, "Our Diversity is Our Strength."





Community School





Restorative Practices





Offers a Universal Pre-K Program including a program for 3- year-olds.





"Help Me Read" program, run by volunteers, provides students with additional literacy assistance.





Horizons Summer LEAP (Learning Enrichment to Achieve Potential) is an educational initiative improving access to high quality, tuition-free, summer learning programs. Children go to the campuses of Allendale Columbia and SUNY Brockport to receive academic instruction and social-emotional support along with fun summer enrichment activities.





Participates in Junior Achievement and has an active PTO.