Rochester Early College International High School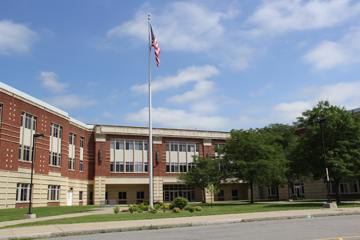 Rochester Early College International High School is a Secondary School.
Attending Early College
Rochester Early College is currently accepting applications for students entering 9th grade for the 2023-24 school year.

The Early College Application Packet contains all of the necessary forms for the application process – Scholar Application, Recommendation Form, and the Scholar/Guardian/School Compact.

The application form can be completed online HERE
The recommendation form can be completed online HERE
The scholar/guardian school compact form can be completed online HERE.

You must complete the School of Choice Lottery and select Rochester Early College as your first choice. The deadline to complete this is Friday, February 17, 2023. The link to enroll online can be found HERE.

Please don't hesitate to contact Lori Garsin, Early College Coordinator, at lori.garsin@rcsdk12.org, if you have any questions.
What Every Family Should Know
Rochester Early College is the only high school in the Rochester City School District that offers the Early College model. Our school provides an opportunity for our scholars to not only earn a high school diploma but also earn 24- 60 college credits in four years of high school. Scholars who want to get a head start on a two-year or four-year college degree should consider Rochester Early College International High School. The school has a close partnership with Monroe Community College and provides a small school environment. Scholars who seek the personal attention of a smaller setting with college course offerings will find success at Rochester Early College International High School. Scholars who are highly motivated, college bound, and have strong work ethics are welcome to apply.
Program Features
Uniforms: No

Busing: RTS

Foreign Languages: Spanish, Mandarin Chinese

Honors Classes: Yes

Tutoring/After School: Yes

Summer Programs: Yes

Dual-Credit Courses: Yes

Advanced Placement (AP): No

English Language Learners: Yes

Health/Wellness Center: No

Extended/Expanded Day: No

Business/College/Faith Partnerships: Monroe Community College, Hillside Work Scholarship, University of Rochester Upward Bound, Army JROTC, and Center for Youth

Formal Application Required

:

Yes
Unique Features
Scholars are expected to complete at least 24 college credits while still in high school. In addition to the advanced college work, all content areas promote globally competent scholars.

Dual credit courses and college credits begin at grade 9. Areas of dual credit include: Art, Health, Microsoft Office, Personal Money Management, English, Spanish, Chinese and Introduction to Business.

College courses for grades 11 and 12 are offered at Monroe Community College.

Each scholar is expected to take a full course load all four years either at the high school or college. Behavior disruptions will not be tolerated in the school environment. Only serious scholars who are willing to complete extensive homework and




are committed to exemplify model behavior should apply.

Summer credit attainment opportunities for both high school and college are expected.

Diversity in all facets is celebrated and respected.

Scholars are expected to tackle rigorous academic challenges and embrace all individuals' differences on a daily basis.

College graduation is an expectation for all.