Leadership Academy for Young Men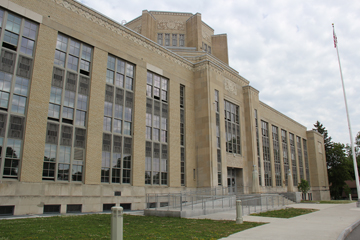 Leadership Academy for Young Men is a Secondary School.

This school is currently in Receivership status by the New York State Education Department. For more information about Receivership or to view the school's improvement measures, please visit https://www.rcsdk12.org/receivership.
What Every Family Should Know
Leadership is situated within the Charlotte community – a peaceful oasis embraced, supported by the Charlotte Community Association. In 2019, the district appoint the first female principal to lead the all-male academy and transition the school into Good Standing. The transition will also include re-branding the school into one of students athletes that will require eligible students to play at least two sports during the school year, while encouraging upper class athletes to take at least one AP course. The transition will also investigate instituting courses that are not only rigorous, but also lead student to both college and career pathways. Leadership students and their families are treated with dignity and respect. All staff, from teachers to custodians, are involved in the school community to provide a supportive and nurturing approach to growing boys into men and dedicated to working together to see the mission and vison through.
Program Features
Uniforms No
Busing RTS
Foreign Languages American Sign Language, Spanish
Implementation of the Community School Model Yes
Advanced Placement Courses Yes
Health/Wellness Center Yes
Business/College/Faith Partnerships St. John Fisher College, University of Rochester, Charlotte Community Association, Urban League, Hillside Work Scholarship, Center for Youth
Student-Parent School Compact Agreement required No
Unique Features
Leadership is an all-male environment that focuses on the learning styles and social/emotional needs of young men, and the only public all-male school in New York State.

Leadership Academy is a My Brother Keepers grant recipient that allow students both direct and indirect mentoring experiences.

Leadership is a school that embraces Restorative Practices.

Leadership students are enrolled for weekly Advisory sessions where they engage in socio-emotional activities and have a venue for group mentoring and additional academic support.

Leadership offers leadership-training experience such as Junior Reserve Officer Training Corps (JROTC) is available to all students who elect to participate. The program is designed to build character and leadership skills, positive values, and the personal responsibility associated with being a contributing member of the larger community.

Leadership offers a variety of school clubs, such as Chess, Raiders, Drill Team, Gaming, Art, Photo and Ping Pong. The school is always seeking out diverse ideas for student clubs.

Leadership offers large on campus offerings of interscholastic sports for scholars in grades 7-12, year round, while embracing opportunities to combine sport teams with other RCSD high schools to ensure that any student that want so play a sport can do so.

CAREER PATHWAY PROGRAMS

NYSED Approved CTE Programs

Fire Science at Rochester Educational Opportunity Center

Criminal Justice/Police at Rochester Educational Opportunity Center

Shared-Time Programs

Intro to Career Pathways to Public Safety Program (Grade 11)

Emergency Medical Services at Rochester Educational Opportunity Center

Emergency Communications/911 at Rochester Educational Opportunity Center

Cosmetology Program at Rochester Educational Opportunity Center

Automotive at Edison

Construction at Edison