P-Tech Rochester Pathways to Technology Program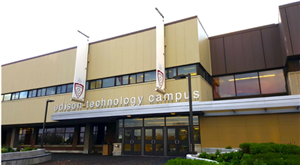 P-Tech Rochester Pathways to Technology Program is an Alternative Program.
What Every Family Should Know
PTECH Rochester is a part of a network of PTECH schools across the New York State, the country, and the only one in the Rochester Area. Our students are provided the opportunity to earn college credits from Monroe Community College (MCC) as well as accelerate their course work to complete their Regents Diploma and purse their Associates Degree in Information and Network Technology.

Students with a strong interest in computer technology should definitely consider P-TECH Rochester. Current students describe P-TECH as a family-oriented environment where students work together and have good attendance. In collaboration with MCC, our program prepares students for careers in computing, networking and information technology. P-TECH offers a small school feel while being a part of a big school campus at Edison Tech.
Program Features
Uniforms: No
Busing: RTS
Foreign Languages: Spanish
Advanced Placement (AP): Yes
Health/Wellness Center: Yes
Business/College/Faith Partnerships: Monroe Community College and various Rochester IT companies
Student-Parent School Compact Agreement required: No
Unique Features
A unique six-year program where students graduate with a Regents diploma and a college degree from Monroe Community College at no cost to the students and families.

Students are matched with business mentors during grade 9.

A combination of high school and college courses beginning in grade 10.

Students enjoy using computers, perform well in English, science and math, and learn the skills to succeed in the highly competitive technology




industry.

P-TECH welcomes curious, dedicated hands-on learners who are ready to take on the challenges of school, college, work, and life.

Students attend a 2 week school orientation program during the summer before grade 9.

Opportunities for internships at major companies in the Rochester area are available.

Students are accelerated in English and mathemathics to prepare for college-level courses.

Students with a strong mathemathics background are encouraged to apply to P-TECH and take 4 years of mathematics.