Helen Barrett Montgomery School No. 50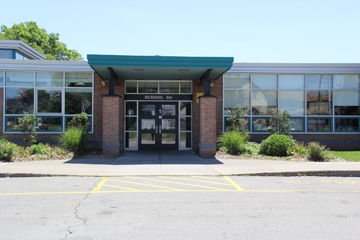 What Every Family Should Know
Helen Barrett Montgomery students participate in a challenging instructional curriculum, from preschool to grade eight, with ample opportunities for individual attention and personal growth.

Our diverse student body, comprised of children from all over the world, benefits from a progressive, modern, and congenial school setting, designed to foster academic achievement.

We provide a safe, positive learning environment that encourages the scholastic achievement of our students. As well as the development of their social lives.

We encourage critical thinking, practical arts and application and appreciation for the diversity of others.

At HBM, we strive to develop the whole person. So when our students move on to high school they will possess the confidence, compassion, and character to make their future and ours the best it can be.

We are a restorative community that employs our CORE VALUES as a basis for our school culture.

S- Self-control

O- Outstanding Team work

A- Accountability

R- Respect

SOAR makes up our CORE VALUES here at HBM. Which is inclusive of restorative communication, relationship building, and listening, reflecting, sharing, learning and greater sense of understanding for all.
Program Features
Uniforms Required No

Foreign Languages American Sign Language

English Language Learners Yes

Honors/Enrichment Classes Yes

Early Literacy Program Yes

Chorus Yes

Band/Orchestra Yes

Instrumental Music Lessons Yes

Sports Yes, grades 7 and 8

Step Teams No

Extended/Expanded Day No

Saturday School No

On-Site After-School Care No

Summer Programs TBD

Business/College/Faith Partnerships SUNY Brockport, St. John Fisher College, St. Joseph's Church, The Pentecostal Miracle Deliverance Center Church, Henderson Ford, Foodlink, North Ridge Church, Trinity Communion Church
Unique Features
EAGLE PRIDE! School-Wide Positive Behavioral Supports (SWPBS) teach our school's Core Values: teamwork, accountability, self control, and respect.

Restorative Practice school and a HELP Zone for students.

Music wing provides space for instrumental and vocal classes in addition to special ensembles, with two large performance spaces for plays and musical programs.

Extracurricular activities include intramurals, clubs, choir and band.

Active Student Council and Parent Teacher Group (PTG).

Dedicated and strong group of community volunteers.

Parent/Community Education Center.