Mary McLeod Bethune School No. 45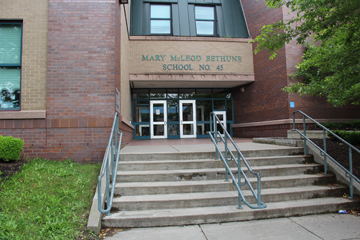 What Every Family Should Know
Our dedicated and compassionate staff believe in student centered, standards based and social-emotional instruction fostered by relationships and real world connections. Our community embraces high standards and expectations for all. We promote lifelong learning, fostering academic achievement and social/emotional well-being in a safe environment

We are a Leader in Me school that creates well-rounded learners by developing the whole-person and preparing students to become life-ready leaders. Leader in Me unites students, staff, and families around a common goal to prepare students with college, career, and life-readiness skills that are necessary to thrive in today's ever-changing, fast-paced environment.

We pride ourselves in meeting the needs of all students. We have the Autism Spectrum Disorders Programs at every grade level. This specialized program serves students with autism.
Program Features
Uniforms Required No

Foreign Languages Spanish

English Language Learners Yes

Honors/Enrichment Classes Yes

Early Literacy Program Yes

Chorus Yes

Band/Orchestra Yes

Instrumental Music Lessons Yes

Sports Yes

Step Teams Yes

Extended/Expanded Day No

Saturday School No

On-Site After-School Care Yes

Summer Programs Yes

Business/College/Faith Partnerships Center for Youth, Boys and Girls Club, G2, Memorial Art Gallery, BlackFem, Inc., Genesee Mental Health
Unique Features
Free after-school programming at the Boys and Girls Club onsite.

Daily Leadership block in grades K-6 and Advisory block in grades 7-8.

Additional ELA and math support provided in grades K-8.

Leadership hour in every grade.

Leader in Me schoolwide programming promoting The Seven Habits of Highly Effective Children.

Individualized student goal setting.

Student-led conferencing.

Peer Mediators trained by Center for Dispute Settlement

Daily advisory and individualized support team time every other day in grades 7-8.

Unique Autism programming for students with ASD

This school is currently a Targeted Support & Improvement (TSI) Schools by the New York State Education Department.