Adlai E. Stevenson School No. 29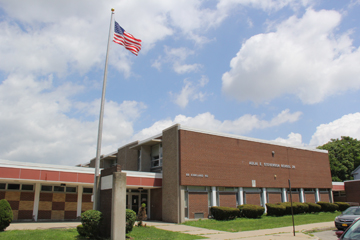 What Every Family Should Know
We are proud to have an experienced, capable staff of caring individuals. Our four major goals are to improve in the areas of literacy, numeracy, technology and attendance. We celebrate numerous community-based partnerships which provide mentors who offer additional support and form positive relationships with our students. We also provide enrichment activities for our students and we embrace parental involvement.
Program Features
Uniforms Required No

Foreign Languages No

English Language Learners Yes

Honors/Enrichment Classes Yes

Early Literacy Program No

Chorus Yes

Band/Orchestra Yes

Instrumental Music Lessons Yes

Sports No

Step Teams No

Extended/Expanded Day No

Saturday School No

On-Site After-School Care No

Summer Programs No

Business/College/Faith Partnerships Memorial Art Gallery, Lawyers for Learning, Foodlink, Arnett Library, Boy Scouts, Girl Scouts, Rochester Gardening Club, Rotary Club Southwest, University of Rochester, Rochester Cjity Ballot, Endless Highway Team, Rochester Wheels
Unique Features
Committed to academic excellence by meeting students' individual needs and striving to prepare students to be global contributors and critical thinkers.

Boy Scout and Girl Scout opportunities.

Memorial Art Gallery programs for grades 2-5.

The GEM program (Growth and Education of Students with Multiple Disabilities) highlights our belief that every child is a work of art. Students of all abilities and ages work together to reach their fullest potential.

Community relationships offer tutoring, mentoring, school supplies, community resources, field trips and friendships that last a lifetime.

Literacy initiatives: 29 Book Campaign, Tier 3 intervention, Compass Learning, and Lexia Reading.

Restorative Practices and Positive Behavior Intervention Strategies (PBIS) are used to address student conflict and resolve matters peacefully.