World of Inquiry School No. 58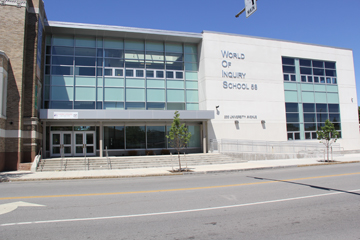 What Every Family Should Know
The EL model promotes student agency by teaching youth to take responsibility for their own learning and become active citizens who advocate for equity in their school, community, and society at large. At World of Inquiry, we are continuously striving to ensure our instructional practices are culturally relevant. We use constructivist methods to develop bridges connecting students' cultural references to academic skills and concepts through expeditions and case studies. Through these learning experiences, our students build on knowledge and cultural assets they already possess. They engage in critical reflection of their own lives and society, resulting in them becoming engaged citizens and ethical people who contribute to a better world. All stakeholders including parents are seen as a vital part of our school community and crew. Outward bound experiences are an important part our opportunities to learn about the natural world and should be embraced.

Our school motto is: We are crew, not passengers!
Program Features
Uniforms Required Yes

Foreign Languages Yes, starting in 7th grade

English Language Learners Yes

Honors/Enrichment Classes Yes, Stem classes are offered
Early Literacy Program Yes

Chorus Yes

Band/Orchestra Yes

Instrumental Music Lessons Yes

Sports Yes

Step Teams No

Saturday School No
On-Site After-School Care No
Extended/Expanded Day No
Summer Programs No


Business/College/Faith Partnerships Expeditionary Learning, University of Rochester, Nazareth College, St. John Fisher College, Monroe Community College, Liberty Resources, Junior Achievement, Liberty Partnership, Buddy Readers
Unique Features
A K-12 Expeditionary Learning (EL) school and recipient of the prestigious Blue Ribbon Award (2010).

Staff follow EL best practices that promote rigorous and engaging curriculum; active, inquiry-based teaching; and a school culture that demands and teaches compassion and good citizenship.

Students engage in a rigorous and well-rounded curriculum that integrates math, ELA, science, social studies, arts, music, and fitness within a learning expedition.

Students engage in two grade-level "learning expeditions," which are long-term intellectual investigations where learning is connected to real-world experiences through interdisciplinary projects that promote citizenship and character development.

Students participate in two Outward-Bound excursions that challenge their mental and physical well-being.