RISE Community School No. 106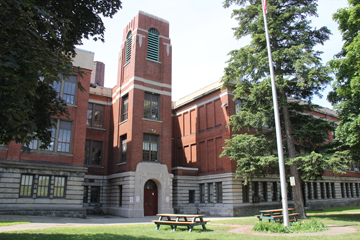 What Every Family Should Know
RISE Community School prides itself on a culture which is collaborative, family oriented and focused on student achievement. Each day, our students and staff begin with an "opening circle" that promotes strong relationships and restorative practices. Our Instructional program is designed with each student in mind and our staff has high expectations for each learner. Beginning in 2020, we have partnered with the Leader In Me organization and we work to create a leadership culture among our students and staff. The "end goal" for our school is to prepare students with college, career, and life-readiness skills to thrive in today's world. We work diligently to uphold our school motto, "We RISE by Lifting Others" and our school mission, "As members of the RISE Community School, we are dedicated to creating a student-centered community of high expectations, established in a race and culture conscious environment, where all voices fuel leadership, innovation, creativity, and scholarship."
Program Features
Uniforms Required No

Foreign Languages No

English Language Learners Yes

Honors/Enrichment Classes Yes, Stem classes are offered
Early Literacy Program Yes

Chorus Yes

Band/Orchestra Yes

Instrumental Music Lessons Yes

Sports No

Step Teams No

Saturday School No
On-Site After-School Care No
Extended/Expanded Day No
Summer Programs No


Business/College/Faith Partnerships Center for Youth, Nazareth College, Northridge Church, Foodlink, Happy Birthday Cha Cha Cha, Fidelis
Unique Features
Peace circles and restorative practices are used to build relationships and promote harmony.

STEM Lab Class for all students

Reconnect Room is available to all students to assist in problem-solving.

Family Events that promote community and foster relationships.

Has an active PTO that assists in planning family events.

HOUSE Model that promotes community, a safe school environment, and character building.: Kuaminika, Heshima, Beneficus, Ubuntu

Morning meetings (Connect Time) are held within each classroom.