Dr. Martin Luther King, Jr. School No. 9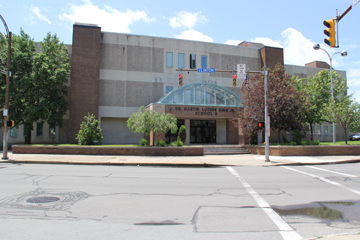 Dr. Martin Luther King Jr., School No. 9 is located in the Northeast Zone.
What Every Family Should Know
Dr. Martin Luther King, Jr PS # 9 is a community school. Faculty and staff provide a comprehensive elementary program with a focus on personalized learning for Pre-K to Sixth grade children in English and Spanish. As part of the 21st Century School Afterschool program, we provide our students with an expanded day program. We offer students choices in academic, athletic, social- emotional, and enrichment programs. In addition, our community school department also offers parents opportunities for active and meaningful engagement in their children's education, work force development, and financial literacy programs. Finally, Dr. Martin Luther King, Jr. is one of two schools in New York State that exited from Receivership to Good Standing Accountability.
Program Features
Uniforms Required Yes

Foreign Languages Spanish

English Language Learners Yes

Honors/Enrichment Classes Yes

Early Literacy Program Yes

Chorus Yes

Band/Orchestra Yes

Instrumental Music Lessons Yes

Sports Yes

Step Teams No

Extended/Expanded Day No

Saturday School Yes

On-Site After-School Care Trenton and Pamela Jackson R-Center and BADEN provides 21st Century virtual

Summer Programs TBD

Business/College/Faith Partnerships Rochester General Hospital School Based Health Center, Baden Street Settlement Center, Heels of Greatness, Catholic Family Services, Hillside Family Agencies, Boys Scout of America, Girls Scouts of America Nazareth College, Brockport College, Monroe Community College, St. Paul Episcopal Church Network: Adopt-A-Classroom, God's Vision Ministry, Crossway Assembly of God, and Iglesia de Dios El Alfarero Divino
Unique Features
Bilingual Transitional Program develops literacy instruction in the student's first language while also teaching English. The faculty utilizes various teaching models to accelerate core academic skill development in the student's native language as well as English, so that students can advance and participate in dual language or English classes

The STEM program offers opportunities in science, technology, engineering, and mathematics. It incorporates technology and engineering into the regular curriculum. The program teaches independent innovation and allows students to explore greater depths of all subjects by utilizing the skills learned.

Dr. Martin Luther King, Jr. connects directly to the Trenton and Pamela Rec-Center, so students and families may participate in the City of Rochester programs that promote swimming, boxing, healthy living, education, creativity, self-discovery and positive relationships.