John Williams School No. 5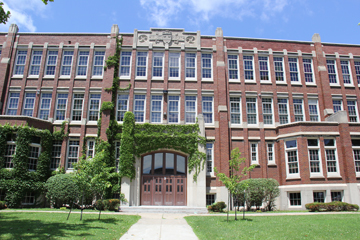 John Williams School No. 5 is located in the Northwest Zone.
What Every Family Should Know
John Williams School No. 5 has long standing history of being a family oriented school. With a diverse student population that includes integrated multilingual classrooms and an ASD Continuum program. Students have diverse opportunities in academics, arts, cultural activities and athletics. We have a history community partnerships throughout the area.
Program Features
Uniforms Required Yes

Foreign Languages Spanish

English Language Learners Yes

Honors/Enrichment Classes Yes

Early Literacy Program No

Chorus Yes

Band/Orchestra Yes

Instrumental Music Lessons Yes

Sports Yes

Step Teams Yes

Extended/Expanded Day No

Saturday School No

On-Site After-School Care No

Summer Programs Yes

Business/College/Faith Partnerships Rochester Institute of Technology, University of Rochester, Roberts Wesleyan College, Nilico, Eastman Kodak, Oasis Christian Fellowship Church, Love Fellowship Worship Center, Windstream
Unique Features
Family oriented, supporting students and providing assistance to families.

Assists English Language Learners with both integrated language and newcomer classrooms to best support student needs.

Provides 7-8 grade intramurals (soccer, lacrosse, basketball, and volleyball), band/orchestra, Boy Scouts, Girl Scouts, step team, safety patrol, National Junior Honor Society, Student Government/Voices, Peace Circles, Victorious Minds Academy, Multicultural Events.

Character education programs, including Primary Project, daily school creed, Positively Pawsome incentive through School-Wide Positive Behavior Supports, Restorative Practices, and vision statement to cultivate respect and responsibility.